The Nurse He Shouldn't Notice by Susan Carlisle
The Nurse He Shouldn't Notice is a sweet romance that will touch your heart.
Dr. Court Armstrong goes to Ghana after receiving a request to reconsider the hospital for fund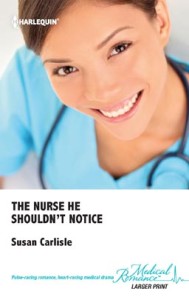 from the Armstrong Foundation. Bu he not only goes there to see for himself if they really need the assistance requested, he is also running from his past.
Maggie Everett is the head nurse in the hospital in Ghana. After being labeled imperfect and being abandoned by her fiancée two weeks before her wedding, she finds more acceptance and feeling of home from the Manprusi people. All she wants is more help to bring them the medical care they need, but for that she needs the help of the Armstrong Foundation to help pay doctors and nurses that are willing to stay in such a primitive place.
As the romance between Court and Maggie develops so does their love for the young Manprusi orphan boy Neetie. But Court will have to open his heart to love again after so many loses in his life and accept someone new, as well as forgive those who hurt him in the past.
The story is sweet and with lots of depth, and it's based on Africa with American characters. It shows the needs of other cultures that we don't always know about or want to realize. As well of the lengths that people will go to heal themselves as well as to help others heal both physically and emotionally.
If you looking for a feel good romance be sure to pick a copy of The Nurse He Shouldn't Notice.
Rating:
Book Info:
Publisher: Harlequin Medical Romances (September 1, 2012)
Print Length: 253 page
With his heart on the line will it be fight…or flight?
Dr. Court Armstrong is running from the past, a flight that takes him straight to the doorstep of a Ghanaian hospital and Nurse Maggie Everett. Working with firebrand Maggie is a challenge Court relishes every second of, but he's in her world now—and he'll have to keep his distance if he wants his heart to survive intact….