In The Oleander Sisters by Elaine Hussey, Siblings Emily, Jim, and Beth "Sis" Blake grew up under their grandmother Sweet Mama's care after their parents died in a car accident. Now as grown adults, they each are facing down challenges in their lives. Sis thought by her mid-thirties she would have a family of her own, but instead she's running the family cafe in Biloxi, Mississippi, and still overseeing her siblings lives. Jim just arrived home from Vietnam, feeling the effects of the battles he has fought. And his twin Emily is pinning her hopes on her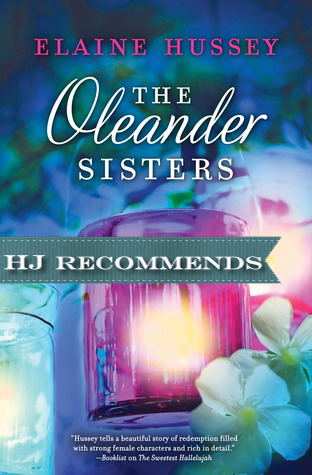 upcoming nuptials with Larry Chastain, praying he will be a father figure to her young son, Andy.
'It seemed to Emily that she'd been following Sis all her life, that as long as she could keep the light of her sister in view, she could always find her way home.'
Time has taken its toll on Sweet Mama's body and mind. Now that she's in her seventies she's forgetting more and more, so without the help of her best friend Beulah she would be lost. Literally. When her granddaughter Emily begins to show signs of being in a harmful relationship with her new husband, Sweet Mama, Beulah, and Emily's siblings band together to protect her. But with Hurricane Camille ready to pummel the Gulf Coast, their nightmare is only beginning.
'Yesterday if you'd asked her how far she'd go to save somebody she loved, she wouldn't have had any idea. Tonight she was as clear on the subject as if she'd earned her Ph.D.'
The Oleander Sisters is a powerful novel about a family in crisis. Set in 1969, a year that changed the world when Neil Armstrong landed on the moon, the Blake family's world also changed when several events tested their close-knit bond.
I will warn readers that this is women's fiction in its truest form. It is honest, raw, sweet, heartbreaking, and inspiring. It isn't necessarily lighthearted, although it does have some happy, joyous moments. This is a real-life look at the situations that shape who we become in life. We follow members of the family as they deal with the loss of parents at a young age, abusive relationships, unwed motherhood, and enduring Hurricane Camille as it swept across Biloxi.
I thought the story had a nice flow to it and the characters were well developed, easily holding my interest. There was quite a dichotomy in what was happening to each family member as well. Sis was such a strong woman and a good role model for her siblings. I thought it was quite realistic that after giving up her dreams to take care of the family, she got a bit jealous watching Emily, who was ten years younger, planning her wedding, wondering if she'd ever experience that herself. Then on the opposite end of the spectrum was Sweet Mama and Beulah who were in their seventies, coming to terms with physical and mental changes. To me, it was interesting to see how they all handled things individually but yet how protective they remained of each other. It was actually quite wonderful to see.
The Oleander Sisters touches on so many emotions, I think fans of romance and chick-lit alike will thoroughly enjoy the lengths these strong characters go through to keep each other safe.
Book Info:

Published July 29th 2014 by Harlequin MIRA
An emotionally riveting tale of the bonds of family and the power of hope in the sultry Deep South
In 1969, the first footsteps on the moon brighten America with possibilities. But along the Mississippi Gulf Coast, a category five storm is brewing, and the Blake sisters of Biloxi are restless for change. Beth "Sis" Blake has always been the caretaker, the dutiful one, with the weight of her family's happiness—and their secrets—on her shoulders. She dreams of taking off to pursue her own destiny, but not before doing whatever it takes to rescue her sister.
Emily Blake, an unwed mother trying to live down her past, wants the security of marriage for the sake of her five-year-old son, Andy. But secure is the last thing she feels with her new husband. Now she must put aside pride, and trust family to help her find the courage to escape.
With Hurricane Camille stirring up havoc, two sisters—each desperate to break free—begin a remarkable journey where they'll discover that in the wake of destruction lies new life, unshakable strength and the chance to begin again. Dreams are reborn and the unforgettable force of friendship is revealed in The Oleander Sisters, an extraordinary story of courage, love and sacrifice.