In The Party Crasher by Sophie Kinsella, Effie Talbot is well aware that families change and grow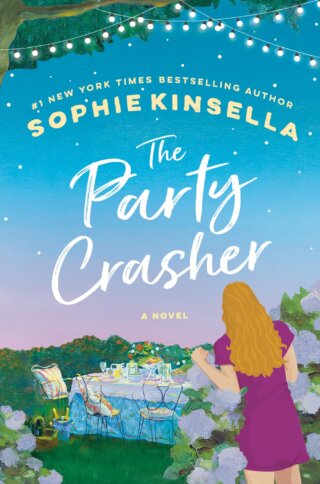 over the years, of course they do. Now in her mid-twenties, and since her parents' divorce a couple of years ago, she sees things differently than she did as a child. But it still leads Effie to wonder if everything was as happy as it once seemed between her, her parents, and her older siblings Bean and Gus. Because at present, it seems like they're all scattered. She's not spoken with her father recently and not visited properly with her brother and sister for some time. It's when Effie learns of their family home, Greenoaks, being sold–and that she's not on her father's girlfriend Krista's invitation list–that she puts a plan into motion.
'It never even occurred to me they wouldn't invite me, that they would actually cut me out of this last chance to say goodbye to our family home.'
Okay, so there wasn't so much of a plan as there was a general idea of what Effie wanted to accomplish the night of the party: locate a missing childhood treasure and say a final goodbye to their home. That might have been her first mistake. Because once at the event, it's not as easy as Effie imagined it would be to sneak into the house and go searching. While hiding in various places, all spy-like, she hears more conversations that shock her than she ever dreamed she would. It seems everyone has something they've been hiding from each other. And there are things Effie had taken as cold hard facts that might not be after all. It will take all of her ingenuity–and a personal assist from her siblings and a guy from her past–for her to accomplish her mission and give Greenoaks the final send-off it deserves.
'I had no idea my brother and sister were so secretive and duplicitous. I'm shocked and will tell them so, at some point, when I'm not hiding from them under the console table.'
From the hilarious hijinx to the sentimental walk through our main character's past–as now seen more clearly through the eyes of an adult–The Party Crasher had that classic Sophie Kinsella charm and wit that I adore.
'Maybe our family has changed shape. Maybe things are exactly like they used to be. And maybe they'll be even more different in the future. But whatever happens, we'll still be us.'
Oh. My. Word. I had so much fun reading Sophie Kinsella's latest novel! Her sparkling storytelling typically captures my attention and my heart with each new bunch of people we meet, but there was an almost magical combination in The Party Crasher that had me devouring this story. I think because it was part family saga, part reunion romance, and with the quirky house basically more of a character than just the setting. It all came together to create an adventure I *so* would have loved to participate in. (lol)
Effie, the "baby" of the family and the main character, was an absolute gem. She was already going through a tough time personally when she learned that her beloved family home Greenoaks had been sold. And to top it all off, she wasn't invited to the send-off her father's girlfriend was throwing. Effie's idea of going to the party, all Mission Impossible-style to find her childhood treasure with no one noticing her? Yeah, she probably should have thought it through a *wee* bit more. Or, you know, at all. Because much to our entertainment, Effie spent the entire party hiding in cramped places and dodging family and friends–all while overhearing things she probably shouldn't have. Things that made her see things much differently about their past.
I loved the scenes where Effie's sister Bean and their brother Gus all interacted. It felt genuine and often ended with me giggling over their conversations. They also had some serious things going on in their lives–not just Effie–all of which came out into the light and were resolved by the end, but not before lots of delicious drama. Something Kinsella has a wonderful knack for in her books.
The Party Crasher was Sophie Kinsella at her best and will have readers laughing until they have tears in their eyes and sighing happily with that warm ending. Highly recommended.
QOTD: Have you ever thrown or been to a family event where it all seemed to go wrong–but somehow it all worked out in the end?
Book Info:

Publication: Expected publication: October 12th, 2021 | Dial Press |
From the #1 New York Times bestselling author of Love Your Life comes a humorous and heartwarming novel about family, set against the backdrop of the most fabulous party you've ever snuck into.
It's been over two years since Effie's beloved parents got divorced, destroying the image of the happy, loving childhood she thought she had. Since then, she's become estranged from her father and embarked on a feud with his hot (and much younger) girlfriend, Krista. And now, more earth-shattering news: Greenoaks, the rambling Victorian country house Effie called home her whole life, has been sold.
When Krista decides to throw a grand "house cooling" party, Effie is originally left off the guest list–and then receives a last-minute "anti-invitation" (maybe it's because she called Krista a gold-digger, but Krista totally deserved it, and it was mostly a joke anyway). Effie declines, but then remembers a beloved childhood treasure is still hidden in the house. Her only chance to retrieve it is to break into Greenoaks while everyone is busy celebrating. As Effie sneaks around the house, hiding under tables and peeping through trapdoors, she realizes the secrets Greenoaks holds aren't just in the dusty passageways and hidden attics she grew up exploring. Watching how her sister, brother, and dad behave when they think no one is looking, Effie overhears conversations, makes discoveries, and begins to see her family in a new light. Then she runs into Joe–the love of her life, who long ago broke her heart, and who's still as handsome and funny as ever–and even more truths emerge.
But will Effie act on these revelations? Will she stay hidden or step out into the party and take her place with her family? And truthfully, what did she really come back to Greenoaks for? Over the course of one blowout party, Effie realizes that she must be honest with herself and confront her past before she'll ever be able to face her future.