The Greek's Cinderella Deal by Carol Marinelli commenced with much excitement and drama.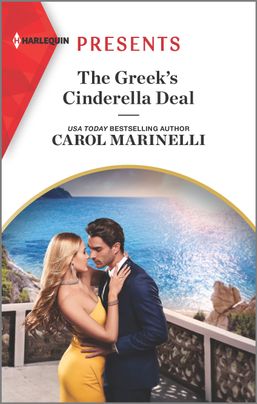 Mary really is a real life Cinderella and how she ends up on a date with Costa's enemy is written beautifully. The whole exchange is very enjoyable and I loved the suspense and the intrigue. Absolute two opposites, inexplicably Costa is drawn to Mary. Something about her resonates with him and he hijacks the original reason for the meeting to literally save Mary. With his business hat on Costa feels he can rescue Mary.
Shock is an understatement when he offers Mary the chance of a lifetime and she turns him down. Unable to forget Mary, Costa invites Mary to be his pretend fake girlfriend for the long weekend when he's summonsed home. A beautiful location and their attraction spills over and Mary's past comes hauntingly rushing back to her.
There's moments of brilliant drama in this story and I liked the misconceptions that were scattered through the story. Costa is a brilliant Presents Hero; he's all business and sharp edges. Mary is a good match but I wish she was a bit older. I liked her family loyalty and how Carol Marinelli weaved that through the plot. I liked the way everything was wrapped up.
I was excited to see who Book 2 was about when I reached the sweet conclusion of Book 2. I have to say I'm looking forward to Book 2's characters!
Book Info:

Publication: November 2021 | Harlequin Presents | Cinderellas of Convenience #1
It's a one-time-only offer
Until their chemistry ignites!
Self-made tycoon Costa Leventis knows exactly what desperation looks like—his bespoke suits mask his troubled childhood. One glimpse of Mary Jones, fending off a business rival, has Costa coming to her rescue with the offer of a lifetime—his hotel chain will hire her if she attends a party with him.
After years fighting her own battles, innocent Mary's dazed by Costa's generosity…and their outrageous attraction! She accepts his terms, but when the clock strikes midnight on their deal, Cinderella finds herself unraveling in the Greek's bed…
Book 1: The Greek"s Cinderella Deal
Book 2: Title to be confirmed