In The Path to Sunshine Cove by RaeAnne Thayne, Jessica "Jess" Clayton has built a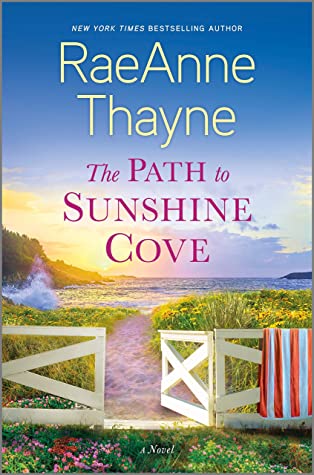 business out of traveling the country, hauling her Airstream trailer behind her pickup, helping people de-clutter their homes. And it suits her well. Jess hasn't felt the need to settle down yet, especially with a childhood that still haunts her from time to time. If she did want to put down roots, though, she can see why Cape Sanctuary would be the place. Her younger sister Rachel lives here with her husband and three adorable kids. And Jess's newest client lives right on the cliffs that lead down to gorgeous Sunshine Cove. She's not sure if it's the location or if it's simply the charm of the Whitakers–matriarch Eleanor, her adult son Nate, and his daughter Sophie–but Jess can't picture herself leaving after the job ends. Particularly once she and Nate share a few kisses. And that scares her to death.
'She had spent more than twenty-four hours reminding herself of all the reasons why she couldn't have a fling with him. After thirty seconds in his arms, she forgot all about those reasons.'
Rachel McBride loves her husband Cody and their three children to pieces. She honestly does. But some days it's just so unbelievably difficult to juggle it all. And now with their youngest, Silas, having recently been diagnosed as being "on the spectrum", Rachel wonders if she'll be able to handle everything. She knows she should probably delegate more to Cody. And she shouldn't get upset that he works late to help provide for their family. But there are days that Rachel feels like she's drowning in it all. So when she sees her older sister Jess come cruising into town with seemingly no worries, it stings. She misses the days when they knew everything that went on in each other's lives. Maybe before Jess breezes out of town again they can mend the rift between them. And who knows? It might help Rachel figure out how to repair her marriage, too.
"They're great girls, Rachel. Funny and kind and smart. I can tell you're a good mom."
The quiet words of approval, so desperately needed, sent Rachel over the edge. Her throat tightened and tears burned her eyes. She couldn't begin to tell Jess how much that meant to her.
I think it's safe to say that we can all use a little comfort right now. And The Path to Sunshine Cove was exactly that: all about warmth, comfort, heart and hope. Which happens to be what I love most about RaeAnne Thayne's emotional storytelling.
'She and Rachel had been pulled apart by life and circumstances. She wanted to think maybe this time in Cape Sanctuary had helped them begin the process of finding their way back together.'
Trigger warning: View Spoiler »Murder/suicide, soldier killed in the line of duty. « Hide Spoiler
I absolutely adore RaeAnne Thayne–and her wonderful books. I look to her for stories based on real life issues, for characters I'd love to meet, and for the myriad emotions she draws into every scene. That captures the heart of The Path to Sunshine Cove perfectly. Told from three POVs (Jess, Rachel, and Nate) family drama and overcoming painful pasts was a huge part of what they had to deal with. Throw in some personal crises and it was a recipe for lots of soul searching and some tears as well as laughs.
Even though there were multiple threads of the story to follow, I found that it was so well done, woven together so intricately, that I breezed through it and knew at all times whose POV I was reading. Something that Thayne excels at, in my humble opinion. It helped that two of the main characters, Jess and Rachel, were sisters. Kind of estranged sisters, but at one time had a close bond. So watching them find their way back together and finally put their horrific childhood behind them? Heartwarming, to say the least. Rachel and Jess both had their own current problems to contend with as well and that was where they butted heads a bit. It was obvious that they still loved each other. I definitely enjoyed the way everything was resolved. It was realistic and oh so touching as one would expect from Thayne.
There was also some romance. We had Jess and Nate, neither of whom wanted a relationship as they were too busy in their lives to want to go down that road. Although their attraction was too strong and their hearts too tangled up to ignore it. Then we had married couple Rachel and Cody who needed some serious help strengthening their flagging marriage. With three kids–their youngest having just been diagnosed as having Autism–and busy careers, I think a lot of readers will commiserate with them. It was tough to see Rachel struggle so much. And there were times I couldn't believe the attitude she gave Cody. But it was raw. It was honest. And the way things ended up between them made me smile huge. *happy sigh*
Picking up a RaeAnne Thayne book is like coming home. The paths for her characters are not easy ones, but that only gives it an authentic feel and makes the HEAs worth every tough moment–for her characters and for her fans. Highly recommended.
Book Info:

Publication: March 30th 2021 | HQN Books |
She knows what's best for everyone but herself…
With a past like hers, Jessica Clayton feels safer in a life spent on the road. She's made a career out of helping others downsize—because she's learned the hard way that the less "stuff," the better, a policy she applies equally to her relationships. But a new client is taking Jess back to Cape Sanctuary, a town she once called home…and that her little sister, Rachel, still does. The years apart haven't made a dent in the guilt Jess still carries after a handgun took the lives of both their parents and changed everything between them.
While Jess couldn't wait to put the miles between her and Cape Sanctuary, Rachel put down roots, content for the world—and her sister—to think she has a picture-perfect life. But with the demands of her youngest child's disability, Rachel's marriage has begun to fray at the seams. She needs her sister now more than ever, yet she's learned from painful experience that Jessica doesn't do family, and she shouldn't count on her now.
Against her judgment, Jess finds herself becoming attached—to her sister and her family, even to her client's interfering son, Nate—and it's time to put everything on the line. Does she continue running from her painful past, or stay put and make room for the love and joy that come along with it?