How to Marry a Cowboy: A Clean Romance by Cathy McDavid is the second book in her Wishing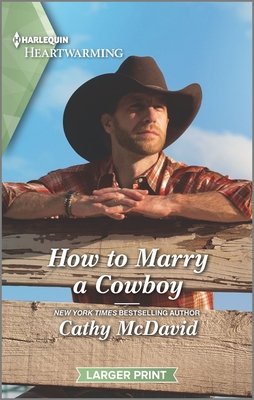 Well Springs series.
Kenna Hewitt is a well-known trick-rider. She and her partner and friend Melissa own the trick-riding entertainment group Hoof Fest. Kenna is back in Payson, Arizona for a few weeks to help with the wedding prep for her mother's marriage to a much, much younger man. She has her doubts about this marriage as it is her mother's fourth. The nineteen year age difference is a major concern also. Aside from that Kenna is happy to spend time with her high school sweetheart Channing Pierce. The more time Kenna spends with Channing the more she realizes she never stopped caring for him. But she travels most of the year with Hoof Fest and Channing is tied to Payson due to his family business. Long distance relationships are difficult. Could she and Channing have a good chance to make their relationship work?
Channing Pierce is managing the family rodeo arena with his father until his father's retirement in a few months. He is in the process of taking on full responsibility as his dad prepares to retire. His dad's past heart attack has prompted the retirement but Channing's dad is having trouble letting things go to Channing. Channing eventually decides to make some executive decisions and books womens' bull riding and a country concert even though his father is not pleased with these decisions. He has also allowed his high school sweetheart Kenna Hewitt to board her horses at the rodeo arena while she is in town. That works out just fine since he gets to spend lots of time with her. He realizes he never got over his feelings for Kenna after she left Payson and now wants to be more than friends with her. But Kenna has a history of running away from problems and is a commitment-phobe. Channing hopes to assure her that they can make a relationship, even a long distance one, work.
Ms. McDavid addresses two themes in this story. The first is a loving relationship between an older woman and a younger man. She makes this relationship work well even spelling out common doubts in such situations. Second is the issue of Kenna's feelings of insecurity and abandonment. Her father died when Kenna was a teenager and with each new marriage for her mother she feels left out there too. I enjoyed seeing Kenna and her mother work out these issues. Even though this is the second book in the series it is a complete standalone. The main characters from the first book, which I loved, really don't appear in this story. Channing and his dad are introduced in that book. Readers should seriously consider reading the first book, The Cowboy's Holiday Bride, though. It was great getting to see Kenna and Channing settle their issues and agree to be together.
Can a long distance romance between two people dedicated to their careers really work?
Book Info:

Publication: April 13th 2021 | Harlequin Heartwarming  | Wishing Well Springs Book 2
Coming home means…
Confronting her former crush
Trick rider Kenna Hewitt can't avoid the company of Channing Pearce—not when the handsome cowboy needs Kenna's help saving his family's rodeo arena. Working together, and being in a wedding together, soon has old feelings resurfacing. But as a gal who does stunts for a living, trusting in a possible future with the cowboy of her dreams is still the most dangerous task she's ever faced…
New York Times Bestselling Author
Wishing Well Springs