The Perfect Dress by Carolyn Brown is truly the "best of the best" to be had in current Women's Fiction.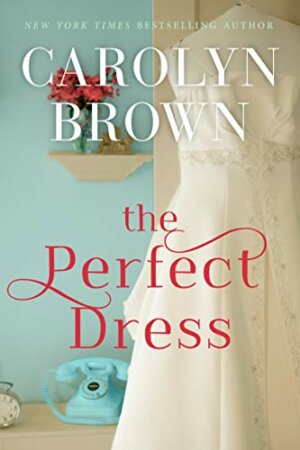 This book has so much to offer in the way of page-turning entertainment.
Mitzi Taylor, Jody Andrews and Paula Walker have been best friends since their school days. They went their separate ways after high school graduation but now the three plus-size friends have opened a custom wedding boutique for plus-size women in their hometown of Celeste, Texas called The Perfect Dress. Mitzi designs the dresses and Jody and Paula make Mitzi's designs come to life. Their lives are about to change and they will be facing good times and bad times, blessed times and disastrous times.
The main female character is Mitzi Taylor who is about to have a "blast from the past" high school crush Graham Harrison breeze back into her life. Graham is divorced and raising his fifteen-year-old twin daughters who are "big girls" who need bridesmaid dresses. He stops in to The Perfect Dress to arrange for his girls, Dixie and Tabby to have dresses designed and made there. Looks like there is attraction blazing between Mitzi and Graham although neither one is quite ready to act upon it just yet. Thus begins a slow buildup to a serious relationship between the two. Add in Mitzi' s friends and her grandmother Fanny Lou with lots of encouragement, Graham's twin daughters' encouragement and what you get is a heartwarming story. As an added bonus the author includes the ups and downs in Jody's and Paula's lives so there is never-ending entertainment to be had.
The love and support of the three best friends is so uplifting to read that I came away at the end of the story filled with happiness. Carolyn Brown writes the best comfort-for-the-soul, heartwarming stories and she never disappoints. If you enjoy feel-good, soul-comforting stories you won't go wrong with The Perfect Dress!
Book Info:

Publication: April 16th | Montlake Romance |
A plus-size Texas gal has designs on an old crush in New York Times bestselling author Carolyn Brown's exuberant, bighearted romance.
In the small town of Celeste, Texas, Mitzi Taylor has never quite fit inside the lines. Nearly six feet tall, flame-haired, and with a plus-size spirit to match every curve, she's found her niche: a custom wedding-dress boutique catering to big brides-to-be with big dreams. Taking the plunge alongside her two best friends, she's proud they've turned The Perfect Dress into a perfect success.
Just when Mitzi has it all pulled together, Graham Harrison walks back into her life, looking for bridesmaid dresses for his twin daughters. A still-strapping jock whose every gorgeous, towering inch smells like aftershave, the star of all Mitzi's high school dreams is causing quite a flush.
For Mitzi, all it takes is a touch to feel sparks flitting around her like fireflies. She can just imagine what a kiss could do. Graham's feeling it, too. And he's about to make that imagination of Mitzi's run wild. Is it just a hot summer fling, or are Mitzi's next designs for herself and seeing her own dreams come true?