The Perils of Paulie by Katie MacAlister: Paulina so badly needs to escape. While she loves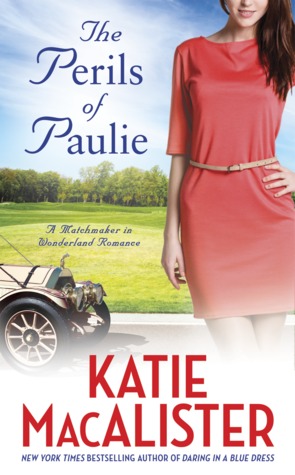 volunteering, she yearns for adventures and the ability to live away from her highly paranoid and overprotective father. She just wants to be independent and live her own life without her father's interference. When she learns of a new reality TV show where contestants re-create the 1908 road race from New York to Paris, she immediately jumps in as a way to see the world.
Dixon isn't happy. He's running his brother's estate and trying to avoid the well-meaning efforts of matchmaking by family members. Everyone continues to push him to move on from a past relationship, but he's not looking for a relationship of any kind. As a way to avoid matchmaking efforts, he agrees to joined the road race with his brother.
Paulie is very much looking forward to whirlwind month-long race and she loves the idea of dressing up as each team of racers has a "themed" car. Paulie and Dixon have an awkward first few encounters. They come across as being socially awkward, flustered, and totally off their game, which makes for highly entertaining scenes.
"Sorry," Dixon murmured, looking extremely uncomfortable.
"No, it's my fault," I said, taking the high ground and apologizing. "I shouldn't have leaned into you that way. Not everyone likes it. Just so you know, I have a couple of gay friends."
His eyes widened. "I'm not gay."
Everyone is excited to begin the race, but there seems to be problems from almost the beginning. While there's chaos with the race and racers, Paulie and Dixon do get closer on and off screen as their competitive sides come out. They recover from an awkward beginning and enjoy a mutually beneficial relationship where they can explore their chemistry with each new stop along the race.
"We will if you and Melody are able to keep up in the De Dion."
"Ha ha–oh, how I laugh at your misguided notion," she said with a snort, and pinched my hand. "The Thomas Flyer is, after all, the car that won the original race. There's no way your little French car can keep us with us once we let the Flyer have his head."
The Perils of Paulie is laugh out loud funny with quirky and entertaining characters. Katie MacAlister created a varied cast of characters who engage in the shenanigans expected of a reality TV show. Ms. MacAlister pulls you in with a creative storyline and keeps you guessing as to what might happen next. The Perils of Paulie can very easily be read as a standalone in the Matchmaker in Wonderland series. Fans of Kendra Leigh Castle and Jessica Clare will enjoy The Perils of Paulie.

Book Info:

Publication: January 3rd 2017 | Jove | Matchmaker in Wonderland #4
A fast and furious new Matchmaker in Wonderland novel from the New York Times bestselling author of Daring in a Blue Dress.
Sheltered by a strict father, Paulina Rostakova spends her time working for the family business and yearning for some grand adventure. So when contestants are needed for a reality show reenacting an historic 1908 car race across the US, Asia, Russia, and Europe, Paulie jumps at the chance to get behind the wheel of a vintage car.
Dixon Ainslie has nothing to lose by entering the race, except the rut he's been in since the death of his girlfriend years ago. But as other racers begin to drop out, the producers want Dixon to join forces with Paulie—on one condition: they have to pretend to fall in love and get married.
And as their scripted courtship takes off, Dixon and Paulie will have to take a detour into reality to turn the sparks flying between them into a passion with staying power…