The Petrelli Heir by Kim Lawrence is a hot romance with complications and misunderstandings that just makes this story more interesting.
Roman Petrelli knows how precious life is, and how fast it can all be taken from you.  After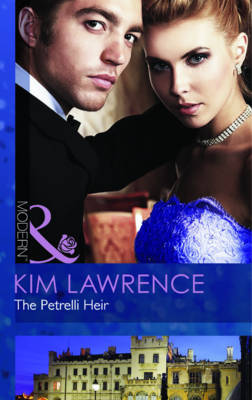 being diagnosed with bone cancer and loosing his fiancée, by walking out on her when he finds out he may not be able to have children, he is trying to drown out his sorrows in a bar.
Isabel Carter is keeping a lot of anger towards her mother. Not only did she deny them having a few nice memories and saying goodbye by taking her own life, but she also lied to her about her father. Now faced with a lot of decisions, all she can think of is to try and find a way to find release. Her way to do that is by following the noise that leads her into a bar, where she may just be able to drown out the pain and anger.
After Saving Isabel from a persistent suitor at the bar, Roman becomes her one-night stand. But when she wakes up to find him gone, she is ashamed and leaves, without knowing that her one act of revelry and not taking precautions will have consequences.
Now two years later, Isabel meets up with Roman again at her cousin Rachel's wedding, but how can she tell him that their one-night had the consequence of their beautiful daughter. While she is trying to find a way to do that, her daughter decides to take the decision from her drawing her father's attention by throwing a tantrum.
With what could be his one-chance to be a father on the line, Roman will do anything to convince Isabel that they have to be family. Maybe he can use the attraction and chemistry they have, which has not died in two years, to convince her. But it will be an uphill battle, for neither will bend or accept their true feelings easily.
Rating:
Book Info:
An impossible truth.
Roman Petrelli knows exactly how precious life is. Now that he cant produce an heir, hes the last Petrelli standing. So how could Isabel Carter have given birth to his baby?
Izzys one night with Roman was an uncharacteristic act of spontaneity that left her with more than red-hot memories. Her little daughter is the family that Izzy s always wanted.
When Roman demands to be part of his childs life Izzy fears hell sweep in and take over. But Romans determined to get what he wants and he will use any means necessary charming or otherwise!