The Phoenix Candidate (Grace Colton #1) by Heidi Joy Tretheway: Grace is a newer congresswoman from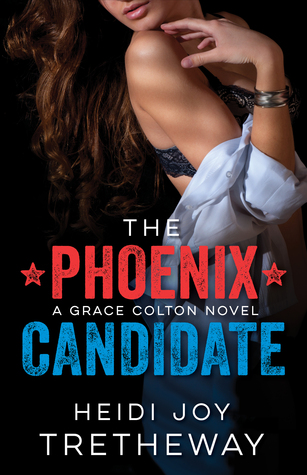 Oregon who has spent the last few years in pushing for controversial legislation as a result of personal loss. She really hasn't dated, but then she meets this intriguing, confident man while out with her friends. After an amazing night with no names, no questions, and no regrets, Grace finds that her one-night stand is a political consultant who is vetting her as a possible vice presidential running mate.
Grace is shocked, but intrigued by the possibilities before her. Jared, her consultant working for the underdog, constantly pushes her…personally and professionally. Jared has worked with Grace's staffers to book her for more events, speeches, and interviews, which puts Grace in contact with the others vying for the presidency. Grace also gives as good as she gets; she's trying to find a balance between staying attractive as a running mate without selling out.
Jared tips his head, his eyes searching. "You're right. You're not a…conventional…candidate. But that's where I come in. I'm the fixer."
"And you're going to fix me?" I can't keep the annoyance from my voice. "You're going to stuff me in a voter-approved, soundbite-ready packaged?"
While Jared pushes her boundaries, he remains closed off. Grace and Jared have great chemistry, but Grace isn't sure who she can trust. And with Jared refusing to let her in, Grace is open to other opportunities and needs to be careful about any relationship she would have.
"You can't just be my lover," he says, and his voice vibrates through his chest so I can feel it in mine. "If I kiss you, you can't just be a woman I know, and touch, and taste. You have to be more."
The Phoenix Candidate is an intriguing look into the race for the White House and the games politicians play. Heidi Joy Tretheway created two strong, equally matched leads in Grace and Jared. Ms. Tretheway found a good balance between the romance, political intrigue, and growth of Grace and Jared as individuals.
Fans of the tv show Scandal would enjoy The Phoenix Candidate, as it has the same political intrigue, manipulation, sex, scandals, and game-playing.
Book Info:

Published January 12th 2015 by Jasper Ridge Press |  (Grace Colton #1)
Fans of Scandal, House of Cards, and The Good Wife will love Grace Colton…
U.S. Congresswoman Grace Colton is the most famous woman in politics—and the loneliest—until a drawling, sexy stranger offers her one night: no strings and no regrets. And it rocks her world.
Grace wakes to an empty hotel room and a phone call. The dark horse for the 2016 presidential election, Senator Shep Conover, is considering her as his vice presidential running mate.
Before she can be selected, Grace must be vetted and coached by Shep's political consultant, Jared Rankin, who already knows too many intimate details about her. He's Mr. One-Night Stand.
Grace is torn: play nice with Jared to join the senator's ticket, or play hardball and back the slick frontrunner? As the Democratic National Convention approaches, Grace must decide where her loyalties lie and if she can trust Jared with her future—and her heart.
The Phoenix Candidate is an adult erotic romance recommended for mature readers.