In Jaguar Pride (Heart of the Jaguar #4) by Terry Spear, Jaguar shifter Huntley Anderson revels in the excitement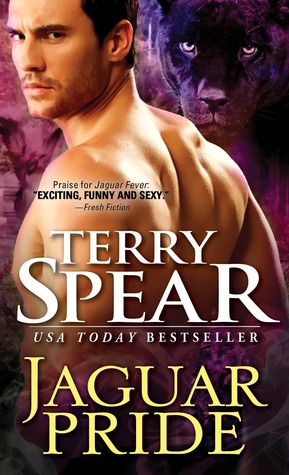 and constant changes his job as a JAG Special Forces agent offers him. But he never expected to be thrown into a situation where he'd have to babysit two furry little jaguar shifter cubs alongside his partner Melissa Overton. Seeing her natural maternal instincts kick in just cinches the deal for Huntley. The attraction that has been growing between them has reached a point where he has to act on his feelings. Otherwise he may lose his perfect mate before they even get started.
'…For now he wanted to show Melissa just how right they were for each other. What two wild cats in love truly meant.'
Melissa would have to be blind to not see how many sparks she and her JAG partner Huntley throw off when they're together. But she doesn't want their relationship to be awkward while working on assignments if things don't work out between them. When their most recent case becomes more convoluted–and more dangerous–Melissa also wonders if working together as a couple would have her worrying about Huntely's safety more than normal. In their line of work they can't have any distractions. But that's precisely what he is…a charming, sleek, sexy distraction.
In one giant step, he grabbed her up. She squealed, never expecting anything like this, and laughed. She loved it. He tossed her over his shoulder and stalked back to the bedroom.
"What do you think you're doing?"
"I've had enough babysitting duty. It's time for some grownup action."
So. Much. Fun. Jaguar Pride was an exciting mix of pulse-pounding action while our hero and heroine tracked down bad guys, as well as playful scenes that showed off the cat side of their shifter personalities.
This is the first novel I have read in Terry Spear's Heart of the Jaguar series and I have to say, I am pretty wowed by the world she's created. I have read some of her other paranormal titles so I had an idea of her "voice" and writing style, which I've enjoyed quite a bit. I thought that this was just as solidly written and that it was actually very unique. I loved that there was an underlying message of how important it is to protect animals, especially exotic breeds, against poachers and ultimately, extinction. There was almost a reverence to the storyline in how the JAG agents protected their fellow shifters and all other creatures in the rainforests. But I didn't think it overshadowed the storyline. It simply enhanced it.
As for Melissa and Huntley's relationship? Stellar. They were an absolute riot to get to know through this story. There was an easy camaraderie between them, having worked on a few assignments together already. The basis of a solid friendship had been built. And then came the chemistry they couldn't ignore. I loved that they tried to keep an open mind about the possibility of something more than just a fling, all while having a great time flirting and basically acting like the fun-loving jaguars they were. It was a nice balance, I thought, against the seriousness and danger their job posed to them. Their interaction with fellow agents and the others they came across in Costa Rica was also enjoyable. Both Huntley and Melissa knew how to joke and mess with people when the time was right, and when to be tough-as-nails to protect themselves and the animals they had sworn to look out after.
Jaguar Pride is an entertaining paranormal/shapeshifter romance that had me completely engaged from start to finish. It is easily read as a standalone, so even if you haven't given the Heart of the Jaguar series a try yet, I would still recommend checking this one out.
Book Info:

Published February 3rd 2015 by Sourcebooks Casablanca | (Heart of the Jaguar #4)
An impossible mission…
JAG Special Forces agents Huntley Anderson and Melissa Overton are hot on the trail of poachers when they're suddenly saddled with two jaguar shifter cubs. They have to locate the parents, pronto-but who's going to babysit in the meantime?
A lifetime of possibilities…
Huntley is a rough, tough jaguar shifter and an all-business agent, but he's not going to let two abandoned youngsters come to any harm on his watch. Seeing her super-manly partner try to get the playful cubs under control stirs up some unexpected desires in Melissa, and she begins to feel like Huntley's not the only one who's in over his head…
Praise for Jaguar Fever:
"Exciting, funny and sexy. Jaguar Fever has a multilayered, sizzling plot that will have readers unable to put it down." -Fresh Fiction
"Jaguar Fever lures a reader in with humor, snares their attention with drama, captures their imagination with exotic locations and satisfies the romance reader with sexy seduction, culminating in an explosive, action-packed climax. This author delivers the goods every time. A reader can't go wrong with stories by Terry Spear." -Long and Short Reviews