In The Prince and I (True Royalty #2) by Miranda King, Adam Thorton,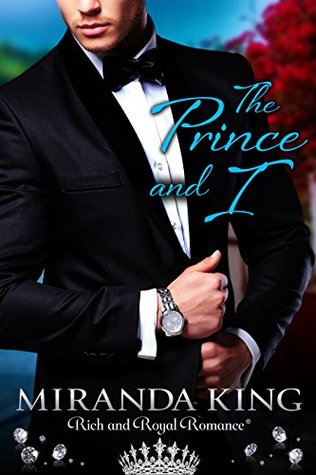 the crown Prince of Summerland, has already met the woman he wants as his future queen: businesswoman and designer Emma Hart. Not only does he absolutely adore her, but he finds she is of a like mind and would be the perfect partner in every way. But even though Adam knows she feels the same way about him, Emma is holding back and pushing him away. He won't stop, though, until he has convinced her that they are truly meant to be.
"Oh, Emma." I'm only a breath away from her lips. "For me, there is no other woman but you."
Her muscles tense. She retreats only a foot from me, but it might as well have been a thousand miles.
Emma has her reasons for letting Adam go a couple of years ago. Their attraction may still be growing on a daily basis, but a decision she made in her teens haunts her and forces her to give up the one man who could steal her heart. But as Emma comes face to face with her past choices and current family drama, it may be enough to change her mind on leaving Adam behind after all.
'My sister's happiness bankrupts me–it costs me Adam.'
The Prince and I was a modern day fairy tale and a second chance romance. Centering on a prince and the lady he was determined to make his own, Miranda King gave us a lovely story with depth and heart.
Now even though this is written as part of the True Royalty series, this can be read as a standalone. The ending is more of a happily-for-now as it will continue, but readers can rest assured that our hero and heroine leave things in a good place here. I also think that it will be easy to understand the previous characters and the basics of Emma and Adam's relationship without having read book one, which is nice.
I had to hand it to both Adam and Emma for their determination. It seemed like everything was fighting against them reuniting. I can't say too much or I'll spoil the true reason why Emma was so set on letting Adam go, but there definitely was a valid reason. One that made me very angry on her behalf, I'll be honest. But I loved that she was such an upstanding character and was trying to do what was right.
And Adam. *sigh* We should all have a prince like him vying to win our love. I really enjoyed his character. I loved his relationship with his little sister, and his passion for Emma. He was also trying to do the right thing in his role as prince and future king but it wasn't quite as easy as it could have been, thanks to his snafu with Emma. But the way the story ended, with Adam getting his wish for his future queen to stay with him? That was simply a sigh-inducing moment, let me tell ya.
Managing to be both whimsical and totally grounded, The Prince and I in a way reminded me of Duchess Kate and Prince William's incredible love story. I think romance fans will have a great time reading this novella-length book.
Book Info:

Publication: Published December 15th 2015 |   True Royalty #2
Sometimes love gives you a second chance…
Crown Prince Adam Thorton in Europe must claim his kingdom's throne—and a princess. Yet there's only one woman he desires, even though two years ago she left him and broke his heart.
Now Emma Hart may own one of the most successful fashion empires in the world, but it's time he proves to her that what she needs most is him.
…and one way or another, Emma will be his.
Leaving Adam behind for New York was one of the hardest things Emma has ever had to do. The electricity between them keeps pulling her back to him, yet she must consider her family before her heart.
But when Adam won't take no for an answer, how can Emma choose between the man she loves and the family ties that bind her?
*Standalone title. No cliffhanger. Part of the True Royalty series, but the story can be read apart from Almost My Prince.