In The Prince's Cinderella Bride by Amalie Berlin , Quinton Barlow's divorce left him devastated especially since he became a part of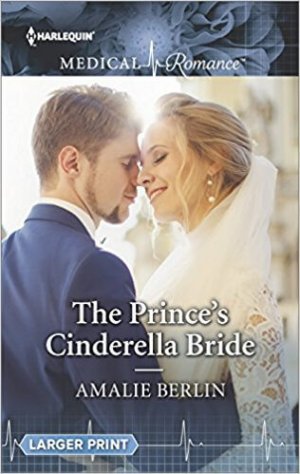 the Military on the same day. Now seven years later, Quinn finds himself face-to-face with his ex-wife, Anais and there's no way he's letting her get away a second time, not once he discovers they're still married. Will he be able to win Anais's heart to give them a second shot at happy ever after, or will someone's determination to taunt Anais with the demons of her past tear these two apart again?
"We could argue this all day and you'd still be wrong." He waved a hand. "That's not what I was talking about. Our situation is different because you're different. You're accomplished, not just a common girl the daft Prince fell for. And there's nothing people like better than a fairy tale. All we have to do is give them the fairy tale, Cinderella. Do some appearances."
Ms. Berlin does it again in writing a captivating, fast-paced read that I could not get enough of due to the wonderful main characters that have quite the past, which has made the hero bitter; riveting dialogue that kept me entertained from start to finish due to whether this couple could overcome the obstacles they face on their journey to happy ever after. Such as what the heroine is facing from someone that she doesn't want to tell the hero about; and the fact that they're the complete opposite and the heroine hates being judged by it. The way this story started had me liking the heroine immediately, because she's brave to be back at Almsford Castle, even knowing she might run into Quinn. Will she be able to handle coming face-to-face with him? However, it was from the moment Anais helps someone dear to the hero that had me totally hooked, as I was determined to discover more about the hero's friend and what he's been through that made him considering doing what the guy did.
The dialogue was well-written and I liked how these two challenged each other, because the heroine doesn't believe she's good enough for the hero and the hero is determined to prove otherwise, even though it isn't easy when he'd rather take charge than listen to her. Will Quinn be able to convince Anais that they deserve a second shot at happy ever after? Is it fate that their divorce never went through? Moreover, the heroine is independent, hard-working and I liked how good she is to her mom because all they have is each other. I also liked how good she is with her patients and that she isn't afraid to turn to someone for help if she can't aid a patient with her kind and caring nature that she hopes put her patients at ease.
While the hero, he's been through a lot in his life due to his time in the military and it only gets harder once he gets home because of what's going on with his grandfather. He's bitter because of the past and how the heroine hurt him, but I liked that he fought to get their relationship back. Can he and Anais work things out between them? Will the people of their country be more accepting of the heroine? Yet, what I liked most about the hero is his determination to protect the heroine by any means necessary, especially when it comes to correcting an error of judgment Anais made when she was a teenager.
="That's you fighting for me, or just with me? I think I like the old Quinn better; at least he wasn't…horrible." Old Quinn joked, used happy distractions, in retrospect. This Quinn? She didn't know him.
"I am fighting for us."
"By lying and manipulating people? You know that's not what happened."
"I just told them we weren't getting divorced and how happy that made me. Two true things."
"You're blackmailing me now? I already have one blackmailer; I don't need two." A flash of fire in his eyes alerted her to the words that had flown from her mouth.=
Overall, Ms. Berlin has penned a wonderful read in this book where the chemistry between this pair was strong; the romance nicely-detailed and shows that second chances are worth fighting for; and the ending had me enjoying how Quinn won the heroine over by forcing her to face her past and hoping she'll be able to overcome the fact that people are human and errors of judgment do happen. Will she be able to forgive herself? However, I loved the decision the heroine made at the end that illustrated she was ready for a second chance with Quinn. I would recommend The Prince's Cinderella Bride by Amalie Berlin, if you enjoy second chance romances or books by authors Annie O'Neill, Amy Ruttan and Tina Beckett.
Book Info:

Publication: August 22nd, 2017 | Harlequin Medical |
Operation Marriage
Prince Quinton Corlow's life was turned upside down the day his divorce was filed and his military papers were executed. Seven years later, the embittered soldier returns, only to walk straight back into his ex-wife's life! But when Quinn discovers he's still married to the one woman who could claim his heart, he realizes he must tackle the past for the future he wants the future Anais wants, too. But can he convince his Cinderella bride to fight for their love?