In The Royal Rogue (Nordic Royals #4) by Karina Halle, Princess Stella of Denmark spends her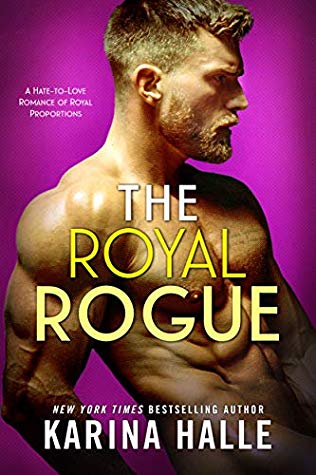 time going between England and her home country, raising her daughter Anya singlehandedly, and mostly out of the spotlight compared to her brother, King Aksel. But when Monaco's royal family makes an impromptu visit in Denmark, Stella finds herself on the receiving end of cocky, sexy-as-hell Prince Orlando's advances. The so-called Royal Rogue. Everyone has heard of his romantic exploits. Even Stella, as sheltered as she tends to be. After years of being alone, she has to admit it's nice being complimented and desired. She doesn't even mind if all they share is a short-lived fling. Especially since their chemistry is insane–and Orlando definitely knows what he's doing.
'This man, this royal rogue, is going to be some bad, bad news for me.
I can already feel it.'
Stella and Orlando's passionate liaison ends up having serious consequences when she becomes pregnant. Of course things can't be easy, considering they are both from royal families with their own obligations and appearances to uphold. But as a divorcee, Stella is already used to being a single mom. So with her brother, the King, fit to be tied and ready to kick Orlando into next week, her nine-year-old suspicious of her mom's sudden "condition", and the Prince himself wanting to worm his way into her world–and her heart–Stella isn't sure where to turn or who to trust. It's a good thing she's learned to rely on herself when her life gets crazy and messy.
"You keep your promises."
"That I do. And I promise you, Stella, you're not going to be alone through any of this. You might hate me, you might push me a way, but I'm always going to be there for you."
Holy dirty talkin' hero! Karina Halle's newest romance, The Royal Rogue, was a sexy romp full of conflicts over a surprise pregnancy between a naughty prince and a seemingly stoic princess. Cue the fireworks!
'This is complicated.
So fucking complicated.
But it's also insanely beautiful.'
Karina Halle is known for her gorgeous heroes who always hide a good heart beneath their huge…swagger. (lol) And Orlando was one of a kind. He might have come across as overbearing or arrogant at times and swore like a sailor, but I think he more than proved himself as a good guy. Particularly when we learned what he was willing to endure to keep his friend's secret and to uphold his family's name. I didn't like some of the choices Orlando made. But don't give up on him if you read this book. He redeemed himself in a very romantic and utterly sweet way, much to the benefit of his beloved Stella.
Now, Stella was a little different kind of heroine than some I've read by Halle. I thought it fit her situation and her position in the royal family. She was self-sufficient, kind, a wonderful mom–she doted on daughter Anya without being a pushover–and Stella had a backbone made of steel. I admired her independence and willingness to take on huge challenges on her own. Such as her surprise pregnancy. I've read some reviews that called her a doormat when it came to Orlando but I think Stella definitely stood up for herself. She just wasn't as feisty as some other characters in the series have been. And that was fine by me. I liked her quiet grace. And it was something that Orlando and everyone around her adored about her as well.
Royal Rogue had something for nearly everyone: out-of-control-hot love scenes, hilarious conversations, offbeat, likable characters–and even a royal cat! Whether this is read as a standalone or part of the Nordic Royals series, you will be sure to have a great time.
Book Info:

Publication: Published October 18th 2019 | Karina Halle | Nordic Royals #4
A Surprise Pregnancy Romance with a Royal Twist, from the New York Times Bestselling author of A Nordic King and My Life in Shambles.
Every family has a black sheep – even the royal ones.
In the royal family of Denmark, that black sheep is me. To the public I'm known as Princess Stella, but I feel anything but royal. As a single mom, divorcee, social outcast, and forever forgotten about under the magnetism and power of my older brother, King Aksel, I'm used to being an outlier. Though it doesn't matter when my whip-smart nine-year old daughter, Anya, is my whole world anyway.
Then that world of mine gets turned upside down.
I meet Prince Orlando of Monaco, whom the media has dubbed "The Royal Rogue" for many good reasons. I can't stand that arrogant smirk on his face, the lewd words that leave his lips – pretty much everything about him. I especially can't stand how infuriatingly sexy he is and how he manages to get under my skin like no one else.
It's been a long time since a man could make me feel that way, so you can't really blame me for throwing my willpower out the window and succumbing to a brief but torrid affair with him, full of hot, dirty sex and nothing else.
Until that nothing else turns into something more, in the form of a big surprise.
I thought I got that wicked royal rogue out of my system but there's a link between us now that neither of us can ignore.
A baby.
**The Royal Rogue is the 4th book in the Nordic Royals series but, like the other books in the series, can be read as a complete standalone** This book contains a lot of sex and swearing, reader discretion is advised**