The Rancher's Bargain by Joanne Rock is a sexy single parent romance, and part of the multi-authored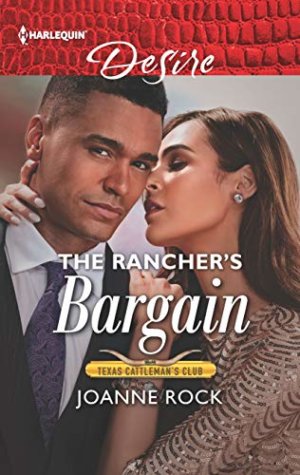 Texas Cattleman's Club: Bachelor Auction series. Each story contains a standalone romance, but also the continuation of a few plot threads that weave their way through the series.
James Harris, President of the Texas Cattleman's Club is pleased with the outcome of their most recent bachelor auction, though there is one problem: the spectacular bid by Gail Walker of $100,000 hasn't come through yet. When Lydia Walker approaches him to try to make a deal for her sister's foolish bid (as she knows full well the money doesn't exist) he comes up with a plan that will help them both out. His brother and sister-in-law have tragically passed away, leaving him the sole parent for their eighteen month old son Teddy. He needs a nanny, now. And Lydia is just the woman for the job.
Lydia can't believe her sister has put her in a bind again, but it's going to damage her reputation and the plan to open her new child care business if people find out that her bid is a bust and that the pancreatic cancer society won't be getting money from them. When she meets James and he offers her the paid job of nanny for his nephew while he figures out his next steps with the boy's care in return for wiping out her sister's debt, she reluctantly accepts. The attraction between her and James is another matter though. Sleeping with the 'boss' is such a cliche, but when things heat up between them, a heated affair ensues. Lydia has always wanted children of her own but James isn't sure whether Teddy should really stay in his care and is still seeking out other options. Will they find their way to a happy ending for everyone?
I have been enjoying this series and its sexy and interesting romances! There's a longer story arc for an older couple in the story, Rose and Gus, who have been enemies until recently and more of their story is uncovered here as they finally get their own happy ending. But there are still some story threads left for the next in the series.
Though Lydia and James's arrangement is for both of their benefits, they also have a common goal – make sure Teddy feels loved and wanted after the death of his parents. Lydia is the eldest child in a big family and has plenty of experience taking after her siblings, with her mother more interested in running her family based blog than actually parenting, and an absent father leaving Lydia in the role of parent most of the time. To this day, she still finds herself taking care of her siblings' messes, like the current one with Gail.
Lydia is eminently qualified to be Teddy's nanny but when she realizes that James is thinking about giving up custody to his deceased sister-in-law's parents she realizes they may not have the same family goals and it puts a damper on her growing feelings for him, despite their sexual compatibility. James has to decide where his heart lies, and what he wants for his future in order for their new found family to get their happy ending. Sexy love scenes, interesting characters and enjoyable plots make up romances by Joanne Rock and this is another lovely addition to her book list.
Book Info:

Publication: Jan 01, 2019 | Harlequin Desire | Texas Cattleman's Club: Bachelor Auction #5
an a bachelor auction gone wrong…
mean temptation for the rich rancher?
James Harris needs a nanny for his nephew—now! So when Lydia Walker's sister reneges on an extravagant bachelor-auction bid, the Texas Cattleman's Club president has an idea. He'll cover the debt, and Lydia will care for the baby. Neither is prepared for the passion that blindsides them. But is a permanent personal arrangement more than they bargained for?