In Their Unexpected Babies by Louisa Heaton, Dr Leah Hudson has known that her path would always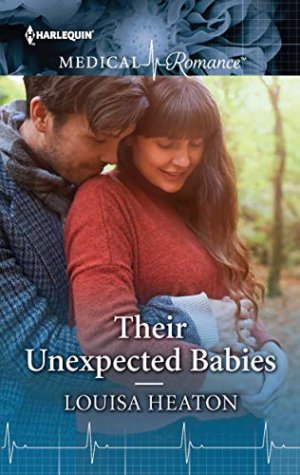 lead to motherhood. But due to a medical condition, having a baby in the traditional manner isn't a viable option. That's why she's so thankful for her best friend Sarah who's agreed to be a surrogate and is now pregnant with Leah's biological child. One night of bliss as she's getting ready for her impending leap into being a mum turns out to life-changing. In more ways than she realized. For Leah becomes pregnant. Which means she'll have to explain to her one-off, Dr Ben Willoughby, that he's about to be a dad. Something he never wanted, after his tough childhood. But maybe it's a chance for them both to start over and give their children the life they wish they'd had.
'Perhaps she ought to remember that even though she'd slept with this man, and wanted more, they could never be together like that. Their lives were on two different paths.'
Double the babies meant double the complexity of the situation in Louisa Heaton's newest medical romance, Their Unexpected Babies. And in a cool twist, it wasn't exactly about twins. Instead, our heroine Leah had a surrogate child on the way in about seven months when this book began, right as she becomes pregnant herself. Talk about drama, some definite soul-searching, and huge changes to her and her beau Ben's lives. Whew…
'This baby had changed everything between them. It would change their futures. Including the fact that he'd believed his would be child-free.'
Leah and Ben were both pretty solid characters who each had been through some rough times as children. I thought it was fitting that they became doctors, people who gave of themselves to ensure the safety and health of others. Leah especially had become extremely independent as an adult–to a fault unfortunately–which we see towards the last quarter of the story. It rather annoyed me how she treated Ben at that point but I did like the overall ending and how things were smoothed out. Because of it, I had to give kudos to the expecting father over how he kept a level head and took on the challenge of two impending babies, one of which was not even his biologically, after swearing to himself he would never have a family. Ben and Leah's lovely connection made this romance all the sweeter, and I think it's what will hold it all together for most readers.
Book Info:

Publication: Published December 17th 2018 | Harlequin Medical Romances |
From irresistible attraction… to ready-made family!
After her best friend agrees to be her surrogate, Dr Leah Hudson's dream of being a mum is finally coming true! But throwing caution to the wind for one night with sexy Dr Ben Willoughby has shocking consequences… Leah's pregnant! Now with two babies depending on her, Leah must push her feelings for committed bachelor Ben aside, unless he proves that Leah and the babies can depend on him.