The Rancher's Reckoning by Joanne Rock: Although The Rancher's Reckoning is #6 in a series, the very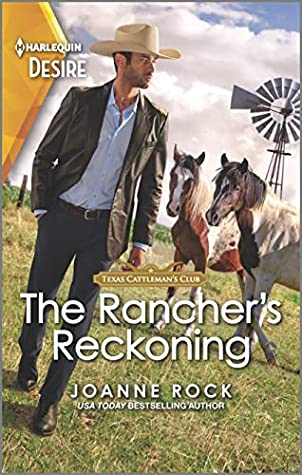 talented author Joanne Rock brought me up to speed so I was able to enjoy this novel on its own.
Reporter Sierra Morgan came to Royal, Texas to work on a story, but has stayed longer in an effort to locate the father of baby Micah. The baby was abandoned and his birth mother has died. The people in the town have banded together to make sure Micah is well cared for. Sierra has become very close to the child. She has done lots of research and finally believes she has located the missing father.
Colt Black comes from several generations of ranchers. He has been living in France establishing a winery, which was his late grandfather's dream. After he gets ever increasing messages from Sierra that he is possibly a father, he finally returns to Royal. He had never heard from the now late mother of Micah after their very short time together. Once he sees the baby is entranced. He jumps right into having a DNA test. Yes, he is the father, but he has zero experience caring for infants. He enlists Sierra into moving into the ranch house and being a temporary nanny. Can they just stay professional when they both know he will leave with his son in the foreseeable future?
I just loved Sierra. She had her own past issues and hurts to deal with, but was able to get past them and love Micah unconditionally. Colt may have been a very strong, ambitious man, but he had a tender heart and loved his son right away. Any man who steps up to his responsibilities with such enthusiasm is more engaging than anyone else to me.
I enjoyed how there was a secondary story involving an old mystery that Sierra put her whole self into. It's rather sad that women in the past had a much harder road to travel.
The romance is one of a slow burn that flares into flames eventually. This is what I look forward to with the Harlequin Desire line.
I am a huge fan of Joanne Rock. I had the privilege to meet her in person at a convention in December. She is gracious and as pretty as any of her heroines. You will want to read this charming story and explore her back list.
Book Info:

Publication: March 29, 2022 | Harlequin Desire | Texas Cattleman's Club (Fathers and Sons#6)
A rancher returns to Texas to claim his infant son—and falls for the beautiful reporter who reunited them—in this Texas Cattleman's Club: Fathers and Sons novel by USA TODAY bestselling author Joanne Rock.
"All of Royal, Texas, wants to know who the father is."
And a beautiful outsider knows the truth.
Rancher Colt Black is stunned to learn he has a secret son. And he owes Sierra Morgan big-time for bringing him together with baby Micah. What Colt feels for the intense reporter goes beyond gratitude, however—and that's a problem. Indulging in the connection with Sierra is an irresistible risk, especially after she moves onto the ranch to help him with the baby. But soon Colt learns Sierra's life-changing secret…and their newfound arrangement may never be the same.