Today, HJ is pleased to share with you

Wendy Roberts's

new release: 

Burning Hope

From Wendy Roberts, author of Grounds to Kill and the Bodies of Evidence series, comes a new paranormal mystery featuring an amateur sleuth kindling a deep secret…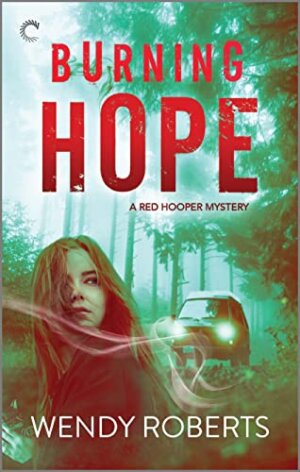 Red Hooper's never been what you'd call lucky, but searching for coffee and finding a dead body instead takes things to a whole other level. Even worse, she and her camper van, Bubbles, just rolled into town, and being the new girl makes her suspect number one.
Red never lingers in one place for long—she's got secrets better left undiscovered—and this time she's definitely overstayed her welcome. Caught in the crosshairs of a police investigation and creeping to the top of the real murderer's to-do list, Red will have to plant some roots if she's going to survive.
Easier said than done. It seems like everyone in town has made up their mind about Red…except the mysterious Noah Adams. The gruff townie might be the key to proving her innocence—if he doesn't bring even more trouble her way. Together they unravel the mystery surrounding the murder, but Red will be forced to embrace her psychic gifts if she's going to clear her name before the real murderer snuffs her out.
Enjoy an exclusive excerpt from Burning Hope 
"Where were you last night?" The sheriff had an easy smile on his face as if we were talking about the weather and not my alibi.
"Up until nine o'clock I was parked behind the diner using their Wi-Fi to watch a movie," I admitted. "After that I was stopped for the night in Farmer Miller's field right up until he gave me a boost this morning." It wasn't much of an alibi and we both knew it.
"Do you own a gun, Red?"
"No." The lie tripped easily off my tongue and I resisted the urge to glance at the location where I kept it hidden.
"Grab me a GSR kit," Duthroyd told Cobb.
Marshal Cobb hopped out of the van to grab the gun¬shot residue kit and returned a minute later.
"Just standard procedure," Duthroyd said as he opened the kit and retrieved the two dabbers labeled left and right hand.
"I know," I replied and then added quickly, "I know you have to be sure I didn't fire a gun."
"Have you washed your hands since you found the body?" Duthroyd asked as he used one sticky dabber and pressed it to my right hand and then did the same with my left.
"Um." I cringed. "I used my bathroom and so, yeah, I washed my hands."
"Of course you did," Cobb retorted sarcastically. "Conveniently washing away evidence!"
"Now, Marshal, we can't blame a girl for needing to pee," Duthroyd said with an easy smile but then slowly added, "When you said 'I know' about the GSR test, is that because you've had this done before?" He placed the dabbers back in the evidence envelope and pressed a sticky dabber to the cuff of my long-sleeve T-shirt and wrote my name on it.
"I just watch a lot of crime shows." I let out a forced laugh.
"Everyone's a crime scene expert these days," he chuckled in return. "Do we have your permission to search your, um, home?" He waved a hand to indicate all of Bubbles.
With a dry swallow I gave a quick nod and waited outside. While I heard the cupboards in my van open and close I stood staring at my feet while the locals stared at me. Fat droplets of rain ran down the back of my neck and chilled my spine. I was wondering how I was going to explain the gun I had tucked next to my mattress. The gun I'd just told them I didn't own.
It wasn't long before Duthroyd slid the van door open and invited me back inside. As I slid the door closed be¬hind me I glanced around but didn't see my gun. They'd gone through the pile of my dirty laundry and lifted up a front corner of my mattress which still sat cockeyed. Could they actually have missed it? A warm flood of relief spread through my gut.
The sheriff asked for my cell phone number. As he wrote it down, he told me he'd be checking with Farmer Miller to confirm what I'd told him about giving me a boost this morning and whether or not I was parked on his land all night. I didn't even think Miller could see my van from his farmhouse, but I didn't add that. He flipped his notebook shut.
"Marshal Cobb will be the primary on this case," the sheriff said, giving a nod to the marshal, who straight-ened proudly. "I have a big case I'm working on in an¬other town, but he'll keep me up to speed." With that, the sheriff tossed his business card on my table.
Cobb rooted through his own pockets, pulled out a card and did the same. "If you remember anything else that could help be sure you let one of us know."
"Oh, and we're obligated to tell you not to leave town," Duthroyd said. "You'll need to stay in Hope Harbor until this is sorted."
Cobb nodded in agreement, the toothpick in his mouth bobbing to the side as he spoke. "Yup, no leav¬ing town until the killer is locked up."
"There's a problem with that because town ordinance says I can't park Bubbles in town overnight, so I have to leave town every night. I park at Farmer Miller's field, outside town limits, so that Marshal Cobb won't ticket me."
"Just stay in the vicinity then, okay?" Cobb said, rolling his eyes.
Sheriff Duthroyd put his hand on the door to the van and then turned with a smile. "What's with the bubbles? Your grandmother buy this thing off a clown or something?"
Even though it was a lighthearted question, it still stung.
"My nan loved bubbles. Thought they were whim¬sical and fun so we put the decals on the van and she christened the thing Bubbles. She left it to me in her will, and I just don't feel right about changing it."
He gave a slow nod. "Again, I'm sorry for your loss." He seemed to think about it and then asked, "Also, out of curiosity, is there a reason why the nails on your right hand are a different color from the ones on your left?"
"Well…" I glanced at my hands as if only noticing now that five fingers were painted bright pink and the others were blue. "I didn't have enough of one color to do them all. I'm trying to quit biting my nails and I thought painting them might help."
"Is it working?"
I drew my thumb from my mouth where I was al¬ready nibbling on the corner of a nail.
"No," I admitted.
When he pulled the door to the van open, we found the rain had stopped and the crowd outside had grown. People were crowded in the road and sidewalk discussing the excitement of the first murder in town in twenty years. Sheriff Duthroyd and Marshal Cobb hopped out of my van. The crowd parted for the sheriff as he made his way back to his vehicle but then closed in again, staring blatantly at Cobb who just stood in front of my open door scowling and looking unsure about what he should do next.
Noah Adams, who ran the hardware store down the street, was standing only a few feet away with an unlit cigarette dangling from his lips. I watched as he pulled a chrome Zippo lighter from his pocket. My heart began to pound in anticipation and, in one smooth motion, he flipped the hinged lid of the lighter open and slid his thumb downward against the metal wheel to bring the wick to blaze. Part of me wanted to look away, but it was too late. My gaze was locked onto the amber flame and I could feel the heat as if it was held an inch from my face instead of a couple yards away.
My fingers went to the large scar on my scalp hidden by my hair and pressed it as if doing so would keep thoughts away. A sudden breeze kicked up, and it took a while for Noah to encourage his cigarette to catch. The small fire lasted only a few seconds while the end of Noah's smoke became a bright cherry.
In a distant memory I heard the tinkle of wind chimes and smelled the heavy scent of something burn¬ing within me. Someone called my name and, abruptly, I was back from my trance.
"Are you okay?" Cobb asked, with a tilt of his head. "You look like you're going to be sick."
I squeezed my eyes shut, steadied myself with a grip on the door frame, and gave my head a quick shake.
Then I cleared my throat and announced, "Marshal
Cobb, you need to speak to Noah Adams." My hand quivered as I pointed a finger in Noah's direction. "He hated Murray and he's really glad he's dead."
My voice was much louder than I intended. Noah's gray eyes pierced mine and his lips turned down in a scowl. He, along with most of the crowd, heard my ac¬cusation. I slid my door shut, hopped into the driver's seat and backed out of my spot, leaving Marshal Cobb, Noah Adams and dozens of townies staring after me with judgment in their eyes.
Excerpt. ©Wendy Roberts. Posted by arrangement with the publisher. All rights reserved.


Giveaway:

One (1) eBook copy of BURNING HOPE by Wendy Roberts (open to the US and Canada).
To enter Giveaway: Please complete the Rafflecopter form and post a comment to this Q:

What did you think of the excerpt spotlighted here? Leave a comment with your thoughts on the book…
Meet the Author:
Wendy Roberts is a mystery & supernatural writer. She is the author of 4 novels in the Bodies of Evidence series, 5 Ghost Dusters mysteries, as well as Dating Can Be Deadly, & Grounds to Kill. Wendy resides in Vancouver Canada. When not at her desk, you may find Wendy in a forest writing inside her camper. website: www.wendyroberts.com Instagram: @wendyroberts_author Facebook: www.facebook.com/WendyRobertsAuthor TikTok: @wendyroberts_author
https://www.amazon.com/Burning-Hope-Hooper-Mystery-Book-ebook/dp/B09HKRHVXX/
https://www.barnesandnoble.com/w/burning-hope-wendy-roberts/1140236785
https://books.apple.com/us/book/burning-hope/id1588241249
https://play.google.com/store/books/details/Wendy_Roberts_Burning_Hope?id=389FEAAAQBAJ
https://www.kobo.com/us/en/ebook/burning-hope-1