What Matters Most by Courtney Walsh is the third book in the Nantucket Love Story series by Courtney Walsh.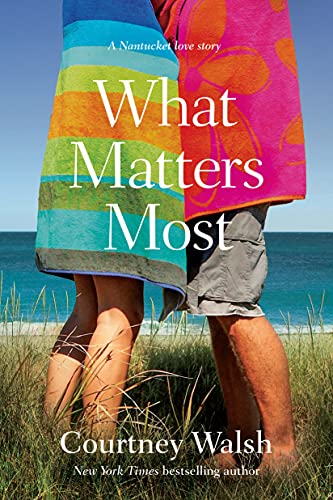 I only recently discovered this author, but I had no trouble reading this book as a stand-alone. This was a beautiful story of love, friendship, loss, and second chances.
Five years after losing Cam, her husband, in combat, Emma Woodson was still living in a daze and just surviving. For her thirtieth birthday her friend, Elise, declares that it was The Year of Emma. It was time for her to make some changes and move on with her life so they made a list of things she would change. Emma hopes moving to Nantucket, where Cam had left her his family cottage, will give her and her son, C.J., a fresh start. She was able to find her dream job working in an art gallery and started thinking of painting again. For extra income, she wanted to clean out and renovate the apartment above the garage to rent it out. The only person that responded to her ad was Jamie and even though she felt a connection right away her past held her back. She did not plan on falling in love with him but when secrets are revealed can true love survive.
Jamie Shaw had been a photojournalist who was with Cam's unit on that fatal day of Cam's death. Cam died saving Jamie's life when Jamie panicked during the ambush. His life had changed that day and he gave up his photojournalist career. He settled into a new career and started a business recreating business's brand. Five years later Jamie is still feeling guilty that he survived while three other soldiers died. Hoping to ease his guilt of surviving, he wrote letters of apologies and regrets to the soldier's family. His plan was to place his letter on Emma's door and leave but the moment he meets Emma, he wants to help her. Staying and helping her renovate her apartment made him feel good but he knew he needed to tell her the truth of his connection to Cam. He put off telling her the truth however secrets have a way of catching up.
This was another beautiful and emotionally charged story from Courtney Walsh. Her character's struggles and emotions are so realistic and heartbreaking. Emma and Jamie both struggled with forgiving themselves and watching them grow and come to terms with their past was beautiful. I loved the way Jamie used his art to tell the story of that tragic day to hopefully help everyone find peace. His photos were able to tell the story without words of the true bravery, courage, and sacrifices made by the soldiers. This was truly a moving story and one you will love reading.
Book Info:

Publication: April 5, 2022 | Tyndale House Publishers | Nantucket Love Story #3
Emma Woodson is hoping the cobblestone streets of Nantucket and the charm of her late husband's family cottage will be the fresh start she and her young son, CJ, need. Securing a dream job at an art gallery is one more step along the path to a new life . . . and away from a piece of her history she hopes will never be revealed. Falling in love with the kind and handsome guy she hires to clean out the rental apartment above the garage wasn't part of the plan.
Jameson Shaw came to Nantucket for one reason: deliver his letter to Emma and never return. But when he sees an opportunity to help her, he takes a chance, desperate to atone for his past. He never planned to keep his connection to her husband a secret or to fall in love with her. After all, he knows that their new relationship might not survive the discovery of who he really is.