In Bane's Choice by Alyssa Day, vampire and leader of the Vampire Motorcycle Club, Bane, is put in a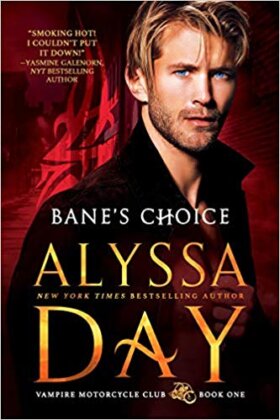 difficult situation when he decides to turn his human friend, who is dying from wounds suffered in a fire. He takes him from the hospital, but not before Dr. Ryan St. Cloud notices something is amiss. When Bane's friend tries to compel her to forget, they realize something is different about her when it doesn't work. Bane decides to keep her at his home until they decide what to do about her.
Ryan has no problem accepting the existence of vampires and werewolves and she asks if Bane will let her examine him to see how they're different from humans. When she learns that there's more to her than meets the eye, will she be able to accept that and help Bane and his friends defeat the enemy who is trying to steal his territory?
This is the first book in the Vampire Motorcycle Club series, but I felt like it jumped right in, almost as if the reader was already expected to know about this world the author had created. As such, it made it a little hard for me to get into the book. I started to enjoy it more the further I got into the book though.
I didn't know what to make of Ryan. I was surprised how quickly she accepted the existence of vampires and werewolves. On one hand I admired her strength and her fearlessness when it came to dealing with the vampires, but on the other hand, she didn't seem to have much sense of self-preservation. She's constantly trying to push Bane's buttons, which wasn't too hard since he was easily riled.
I was left feeling confused as to why the Chamber is so set on obtaining Bane's territory, as well as that of the werewolves. It's also not clear why the turning of Bane's friend wasn't a normal turning. I'm wondering if these things are going to be clarified in future books in the series. I also thought it was strange that Ryan's father seems to come out of nowhere and only when there's danger. Why wouldn't he have made an appearance sooner and told Ryan what she really was? Or helped her harness her power? He left her alone all her life; it seemed strange to have him just suddenly appear the way he did.
Overall, I was left sitting on the fence with this one. Some things were mentioned that felt like readers were supposed to know about already, despite this being the first book in the series. I had mixed feelings about both Ryan and Bane. The secondary characters were interesting, and I'd like to know more about some of them. If you enjoy paranormal romances featuring vampires, this may be a book for you.

Book Info:
Stacey Bruneau| 3 Stars | Nope! | No |
Publication: October 27, 2020 | Entangled: Amara | Vampire Motorcycle Club #1
What better way to hide the existence of vampires from humans than in plain sight? Thus, the Vampire Motorcycle Club was born. Bane, the 300-year-old vampire who leads the club, has fought for years to protect his kind. But the truth about vampires is not only that they exist, it is that they are creatures of pure desire. Conscience and restraint has been burned out of them by the process of Turning. Any woman Bane meets is either prey—or food.
Dr. Ryan St. Cloud finds out that vampires exist when one steals her patient out of the hospital right beneath her nose, leading her to question her own sanity. But when the dangerous man whose touch inflames her senses and whose gaze enthralls her comes to her for help, she is unable to refuse. Bane is a dangerous predator, but somewhere beneath his arrogance and power, she can see his heart—and she knows it could belong to her if she is strong enough to claim it. She is bound to a vampire, but loving her would be … Bane's Choice.