The Rebound Girl by Tamara Morgan is has a unique and fun plot that will keep you wondering what's next.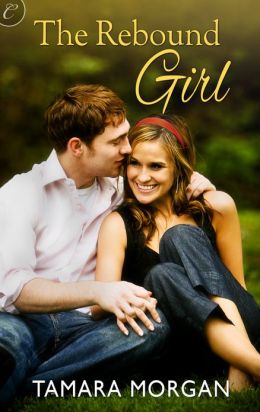 Plastic surgeon Whitney Vidra is new in town with her friends and business partners opening a spa that will include surgery for those that want to give their bodies a little boost. To celebrate their move and soon to be clinic Whitney and her friend Kendra are out at a bar.
It has been six months now since Matt's divorce, and his brother has convinced him to go out to a bar and try to date again. While Lincoln hooks up with Kendra on the dance floor, Matt has been asked to join Whitney at the bar.
At first Whitney turns down Matt in every way  but after her friend and his brother leave together, Matt asks Whitney to get something to eat at a diner. While there is a connection between them, Whitney doesn't believe Matt to be her type but she is willing to have a one-night stand with him. Something that Matt does not want and turns her down.
The next day Whitney finds herself unable to put him out her mind and decides to go find him. As she arrives she notices that there are two single moms that are hitting on him and she is enjoying the show, until he motions for her help.
As Matt and Whitney go out for coffee she learns that he just divorced and that he was cheated on. Something that she knows about and she suggest becoming his rebound girl. At first he does not agree, but since they cannot keep their distance from each other he decides to give it a shot.
With the small town being so conservative and always keeping things behind close doors, Whitney's actions may just ruin their plans for the clinic for they will may just do everything possible to keep her from opening their business there.But with Matt's wife still being a very personal and close part of his life and Whitney's ex coming into town, Matt and Whitney's relationship will face some very tough decisions and obstacles before they realize what true love is.
With a fun and hot romance and a new and different plot The Rebound Girl by Tamara Morgan has gotten me hooked. I can't wait to read the next book in the Getting Physical series.
Book Info
Book one of Getting Physical
Plastic surgeon Whitney Vidra knows all about getting over a cheating ex. She followed her boyfriend halfway around the world before she found out about his infidelity. Now she's focusing on her career and her friends, and using men just for single-serving, no-strings fun. Until she meets charming Matt Fuller.
Newly single Matt is captivated by the vibrant Whitney, in every way the opposite of his cheating ex-wife. When he confesses to Whitney that he hasn't had sex since his divorce, she volunteers to be his rebound girl. But Matt's not a no-commitment kind of guy—he's either all in, or all out.
Whitney is determined to remain attachment-free, but Matt is equally determined to prove to her that what they have is more than just a rebound fling.
94,000 words