In The Red Bikini by Lauren Christopher, Giselle is learning to live again after her husband left her for another woman. To recharge, Giselle and her daughter Coco head to California, to spend a couple of weeks in her sister's beach side apartment. Now it is time for Giselle to find out who she is without her ex husband, but she still wears her wedding ring. Giselle feels a bit lost, like she herself is out at sea.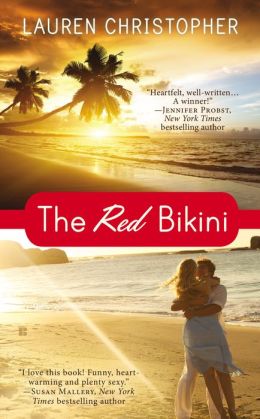 Fin is a surfing celebrity with a wild reputation. To get back in the surfing world with his sponsor, he needs to prove his wild ways are in the past. When he meets Giselle, he decides she just might be the woman to help him.
Giselle knows that a younger man like Fin could in no way ever be interested in her. But when the opportunity arises for them to help each other out, they both take it. Two 'fake' dates soon start to lead to much more though and soon nothing is feeling fake. Neither is looking for any kind of relationship, but the unexpected chemistry and connection demands to be attended to! Fin never thought he'd want to settle down with anyone, but just as he starts to envision a future with Giselle, she can't imagine him settling for her. As Giselle struggles with her life changes, her sense of self, and her future, can she see a future with Fin? Or will she leave, taking with her only the memory of a vacation fling?
Lauren gives us a couple of great main characters in The Red Bikini. Giselle was fairly isolated in her marriage since her husband did not like her family, and is struggling to find her footing as a single parent to an adorable little girl. She's strong, but feels so insecure. Parts of her were easy to identify with, others I worked through with her as Lauren took me on Giselle's journey. Everything about Giselle is out in the open, there is no mystery to her. Fin is much more mysterious, and Lauren drew the story of his background out, making him even more intriguing. I felt like he was a much deeper person than what came across initially, and I enjoyed getting to know him. Giselle and Fin are both like-able, are strong together, and both of their characters grew so much in The Red Bikini. I liked how open they were with each other.
I loved the secondary characters in The Red Bikini, especially Rabbit. Something about him just made me want to know him better too. Rabbit is a great addition to story line, and a valuable character. I would have liked more background on Giselle's family and their dynamics with her ex husband. Her family, especially her mother and other sister are mentioned only briefly and I felt like more information would have given more depth to the story and a better understanding of some of the characters. There is also limited interactions with Giselle's ex husbands family, and I would have liked more detail on those relationships.
I really like Lauren's title The Red Bikini, and as I read the story I could see exactly what it means and stands for. Lauren writes a story about not only romance, but life changes, coping and growing in The Red Bikini. The plot twist that comes up out of the pages to take you by surprise was completely unexpected and added a great twist to the story – one I definitely did not see coming!
With Lauren's great descriptivism that will take you to the beach and hear the surf, I'd recommend The Red Bikini to any contemporary romance reader.
Book Info:

Published July 1st 2014 by Berkley
For the last five years, Giselle McCabe's life has been about sippy cups and playdates. But when her husband suddenly leaves her, Giselle flees to her sister's California beach house for a two-week getaway. Out of her element, she's surprised to receive such a warm welcome—especially from gorgeous celebrity athlete Fin Hensen……
Fin is escaping his pro tour for a season, trying to lie low until all the hubbub over a huge mistake in his past blows over. And when he sets his sights on Giselle, he realizes that the beautiful good girl just might be the ticket to his success.
But Giselle never expected romance to enter the picture again—especially with a hot twentysomething from a completely different world. And even though it feels like Fin is everything she's trying to run away from, she can't help coming back for more……