The Return of the Rebel by Jennifer Faye: Cleo was one misstep away from losing everything. Her job, the money she desperately needed to send back home, and the connection with her family for good. So when her boss reluctantly gave her one chance to show the Casino's "whale" a good time and get him to spend his money – she had to make it work.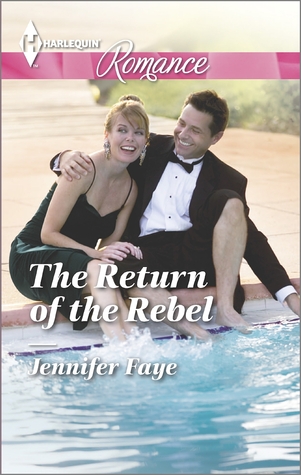 Getting away from New York was imperative for Jax Monroe, and Vegas was nearly as far as he could get. He was up to his neck in demons and Vegas is as good a place as any to chase them away. He wants to be Joe Smith until he has to go back to New York and face the man he outed as an embezzler, but a very familiar voice calls out his real name and almost outs him on his first day. Cleo. Why'd it have to be Cleo.
Reluctantly, Jax lets Cleo be his hostess after learning that her job is in jeopardy otherwise. But holy hell, spending that much time together is going to be a trial by fire. He can't let her know about the trial, and he *definitely* can't let her overhear any of his phone calls. That's a whole new ball of wax. The last person he wants looking at him with pity in their eyes is little Cleo.
Of course, she's not 'little Cleo' anymore. She's all grown up, and the clothes she wears look like they're handmade just for her. He remembers a night just before he left Hope Springs when she shyly pressed a kiss to his lips. He couldn't return it then, but if she did it now – Katie bar the door – he wouldn't be able to help himself, and her brother wouldn't forgive him.
They both have dark secrets, things they'd have to open up about if they got too close – so they do a dance that's not exactly graceful. But when Cleo is put in harm's way because of Jax all bets are off. He's gonna make sure Cleo is safe from his pursuers, but he also wants to keep her in the dark about his other secret. Can he do both?
And can Cleo be under constant watch without slipping up and letting him know about what went on back home? Why she's estranged from her family and why she desperately needs to send that money back to them? Not to mention how he humiliated her once when he rejected her, if he does it again she doesn't know how she'll survive – but she's not sure they can stay away from each other either.
This story may seem complicated, and it is – but I loved it. The twits and turns were all logical – and nothing seemed contrived. When I learned about Cleo and her family I was gutted. Nobody should have to go through that kind of pain, but Jax helped her get things back on track. He also encouraged her to follow a different path in her life, something she sorely needed.
And Jax – man… he's just a hot mess. I'd want to be someone else too if I were him. Bad home life growing up, but he finally makes something of himself. Then whoosh – the rug gets pulled out from under him with two things at once. Together, they threaten everything – and I do mean *everything*. His life, his fortune, all that he'd built would be gone. And when he sees Cleo, he just can't let her in just to disappoint her when the bottom drops out.
I mean, what a drama, right? Loved it from beginning to end – I just wish it would've been hotter. 'Cause steamy Jax scenes… YUMMY. So sensuality rating is a nine, sex rating is about a five. That's not on a scale of bad to good – just a scale of hotness. It's a typical HQ Romance title level of Hot.
So if you like Romances with a little hometown teenage crush backstory, family angst, some intrigue & danger – look no further. Get it now.
Book Info:

Published July 1st 2014 by Harlequin Romance Series #4433
The guy from the wrong side of the tracks…
Being promoted should be a dream come true, only it means working closely with Cleo's childhood crush, Jax Monroe. Jax may no longer be the rebel she remembers, but he still gets her heart racing like no other.
Jax cares too much about Cleo to let her get too close—but keeping his distance is proving impossible! As Jax reveals the extent of what he's been through, will Cleo show him that some things are too precious to put off until tomorrow?