In The Red by Tiffany Reisz, Mona Lisa St. James knows she's in danger of not living up to the promise she made to her mother, but she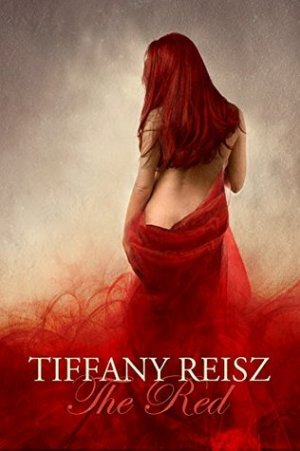 had no idea keeping their art gallery The Red open would be so difficult. Facing foreclosure and bankruptcy if she doesn't begin to see some income soon, just as she told her mother, Mona is willing to do anything to keep things afloat. But she should be careful what she thinks to herself. For an enigmatic, handsome man appears unexpectedly and offers to help fund the gallery–but only if she'll cater to his every desire for a year.
"I'll admit I'm tempted. What are the terms?"
"In exchange for having carte blanche over your body…I'll save The Red."
Mona is at first taken aback by Malcolm's business proposal. She'd basically be selling her body to keep from having to let go of The Red. Not sure she's willing to go that far, she finds herself being drawn in by Malcolm's charm and seductive ways. And as Mona agrees to the deal, she realizes that she's going to be tested and brought to heights she's never known before. But it leaves her wondering who her debonair stranger really is. And what will happen when their incredible year is over? Will Mona ever see Malcolm again or will they part ways forever?
"You leave me and you are my every waking dream. And if I knew when you were returning to me, I would count the minutes until I saw you again." She paused. "No, that's a lie… I would count the seconds."
The Red was a scintillating work of erotic fantasy in which the art world collided with the sexual escapades of a gallery owner and a mysterious man. Filled with debauchery as only Tiffany Reisz could write it, this was one crazy-super-steamy read.
"I'm not the devil, my darling… The devil wants your soul. I only want your body."
Note for fans of Reisz's Original Sinners series: This is the erotica book that Nora wrote and is first mentioned in The Angel (book #2). If you're familiar with her character, then you have a good idea how perverse, intense and yet somehow beautiful a story she would create.
I will first warn that The Red is NOT a romance. It is straight up erotica with a good dash of fantasy. I hate using this phrase but the best way to describe it is word porn. Not that that's a bad thing, as Tiffany Reisz wrote some amazingly creative and seriously hot love scenes. I think as long as readers go into this knowing there isn't a traditional HEA and that everything revolves around our heroine accepting a deal to trade sex for keeping her art gallery open, this story might work for you. Especially if you love erotica and BDSM. But if you're looking for contemporary romance, this might not be the book for you.
Without giving away the surprise plot twists and the rather shocking ending, our main character Mona didn't have a lot of options left when devilish Malcolm appeared in her life. Her desperation to keep the promise she made to her mother allowed Mona to consider a deal that I don't think she would have even thought of doing previously. I liked her immediate attraction to Malcolm and that she thought his offer through based on both her business needs and her own personal convictions. It didn't hurt that Mona's mother had been a free spirit and raised her daughter to think outside the box. So entering into a partnership of sorts with Malcolm worked in that regard. My only sticking point was that the term whore was thrown about quite a bit and I'm honestly not a fan of it. It was sort of used as a term of endearment, not in a negative way for the most part, but I found myself cringing when Malcolm or someone else mentioned it. But that's just my personal hangup.
The Red was a new experience for this reader, not having read much erotic fantasy before. The storyline was obviously heavy on the sex, but it was an interesting plot, with the buildup of each chapter adding more spice and intrigue to an already smoldering affair.

Book Info:

Publication:  July 11th 2017 | 8th Circle Press |
Never make a promise you don't intend to keep…
Mona Lisa St. James made a deathbed promise that she would do anything to save her mother's art gallery. Unfortunately, not only is The Red painted red, but it's in the red. She soon realizes she has no choice but to sell it.
Just as she realizes she has no choice but to sell it, a mysterious man comes in after closing time and makes her an offer: He will save The Red if she agrees to submit to him for the period of one year.
The man is handsome, English, and terribly tempting…but surely her mother didn't mean for Mona to sell herself to a stranger. Then again, she did promise to do anything to save The Red…
The Red is a standalone novel of erotic fantasy from Tiffany Reisz, international bestselling author of The Bourbon Thief and the Original Sinners series.