In The Rescued by Marta Perry, Judith Wegler has loved her husband Isaac since she was a young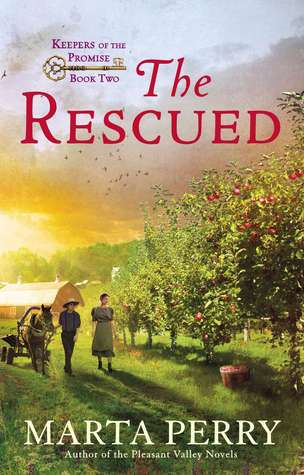 girl. That was before the tragic fire that took the lives of his family, with Isaac barely saving his baby brother Joseph. Now a teenager, Joseph is a bit moody and seems to be forever butting heads with his big brother. Isaac has kept his emotions shut up tight since that tragedy over a decade ago, with Judith doing all she can to show her love and devotion to him and their children.
'Surely, if she loved Isaac and Joseph enough, she could heal this rift between them. She needed to believe that, but every day it became less and less likely that she could.'
Praying for an answer to keep their family from being torn apart if Joseph and Isaac can't stop fighting, Judith uncovers help in the form of letters from over fifty years ago. The author of the letters, widow Mattie Lapp, had problems of her own at a time when the Englisch were forcing Amish teenagers to go to public schools. Fearing her daughter would face ridicule and cruelty, Mattie had to stand up for her beliefs, even if it meant being arrested. In Mattie's determination and absolute faith in Amish beliefs, Judith draws from that strength and those lessons to heal her own family.
He laid his cheek against her head. "There will be trials ahead. It will never be easy to live Amish in an Englisch world. But whatever comes, we will face it together, ain't so?"
"Together," she said, and it was a promise.
The dual stories of Judith and Mattie each struggling to keep their families together had some heartbreaking moments, but ultimately they proved how much of a difference love and faith can make in our lives.
Author Marta Perry brought a concise yet tender voice into this interesting story of two strong, brave women. I really thought the situations Mattie and Judith found themselves in, while at completely different times in history, still made an impact. Their concerns for their family mirrored each other in many ways while their faith was being tested. Mattie, as a widow, had to trust in the Amish way of educating her children and stand up for those beliefs, while Judith had to let her husband and his brother work out their problems, knowing that God had a plan for them all.
I find it intriguing to read about the daily life and family dynamics of the Amish. And Ms. Perry did a nice job giving us readers a true sense of what is important in their lives: their faith, family and community. While it may seem like a simple way of life, Judith and Mattie's struggles proved that it's anything but simple or easy. I thought the way they both worried about their loved ones and how they were confused about the Englisch was realistic. It made me realize that both sides, Amish and Englisch, had much to learn about each other, to understand the choices made by both parties.
If the Amish culture interests you and you enjoy heartwarming stories of love and family, then The Rescued is the book for you.
Book Info:

Publication: June 2nd 2015 by Berkley
As an Amish wife and mother struggles to hold her family together, a story from the past teaches her how to face her daily challenges with strength and love . . .
In modern day central Pennsylvania, Judith Wegler tries to heal the growing rift between her husband, Isaac, and his teenage brother Joseph—whom Judith and Isaac have raised as their own ever since both brothers lost their parents and siblings in a horrific fire. Meanwhile, Isaac's hurtful silence about this tragic past has robbed Judith of any certainty of her husband's love.
But when Judith's grandmother gifts her with an antique study table, she discovers a hidden packet of letters that changes her life . . .
In 1953, widow Mattie Lapp fights against the county's attempts to force Amish children to attend a consolidated public school, even if it means arrest and imprisonment. Mattie knows she can't face this challenge alone, and turns to her late husband's cousin Adam for help, but she's terrified at the prospect of relying on someone else.
Now, as the two women's stories converge, both must learn to stand up for their beliefs and to love again, even when it means risking their hearts . . .