The Right Swipe by Alisha Rai: Rhiannon is smart, savvy, ambitious, and realistic. She's the creator of one of the hottest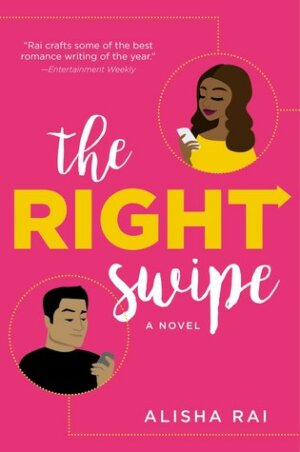 dating apps and she's looking to grow her business. She has a talented and loyal staff and she's part-time roommates with her best friend and business partner. She lives for the comfort of jeans, leggings, t-shirts, and sweatshirts, but she will dress up for the right occasion.
Sampson is working for a rival dating website. He's an ex-football player and comes from a family of legendary players. He's loyal, caring, generous, and enjoying life out of the spotlight. He's also sexy, charming, and self-deprecating. He's been out of the dating world for a while now and he's about to jump back in.
Rhi and Sampson first met a few months back after matching on her own app. They shared an amazing night together only for Sampson to ghost her. They never expected to see each other again until they attend the same conference. Sampson is delighted to find her, but she doesn't share his excitement. The attraction and chemistry is still there, but Rhi doesn't give second chances.
Her eyes snapped to his. Ah, yeah. There was an emotion, but probably not a good one. "Don't." The single word was delivered between gritted teeth. "You don't know me. I don't know you."
A surreptitious glance told him Helena was still occupied. "That's fine. I won't say anything about us."
"Good, because there is no us."
Sampson comes up with a brilliant marketing plan that just so happens to involve Rhi. He's up-front about what he wants, both in business and with picking up where they left off. Working together is actually fun and gives them plenty of opportunity to get to know each other. She feels safe and protected with him and she provides him comfort and honest opinions. Mixing business and pleasure is fun until their pasts and baggage come into play.
RH: Did you send me something
SL: I did
RH: A junk food basket? Isn't this for college students studying for finals?
SL: I thought Cheetos might give you the energy you need to power through this week.
RH: Those are radioactive. Just because I dress like a teenage boy doesn't mean I eat like one.
The Right Swipe is entertaining with humor, banter, heat, and heart. Alisha Rai developed a great cast of characters and highlighted the strong bonds of friends and family. Ms. Rai crafted a contemporary and current story that readers can relate to. Fans of Jasmine Guillory and Helen Hoang will enjoy The Right Swipe.
Book Info:

Publication: Expected publication: July 2nd 2019 | Avon | Modern Love #1
Alisha Rai returns with the first book in her sizzling new Modern Love series, in which two rival dating app creators find themselves at odds in the boardroom but in sync in the bedroom.
Rhiannon Hunter may have revolutionized romance in the digital world, but in real life she only swipes right on her career—and the occasional hookup. The cynical dating app creator controls her love life with a few key rules:
– Nude pics are by invitation only
– If someone stands you up, block them with extreme prejudice
– Protect your heart
Only there aren't any rules to govern her attraction to her newest match, former pro-football player Samson Lima. The sexy and seemingly sweet hunk woos her one magical night… and disappears.
Rhi thought she'd buried her hurt over Samson ghosting her, until he suddenly surfaces months later, still big, still beautiful—and in league with a business rival. He says he won't fumble their second chance, but she's wary. A temporary physical partnership is one thing, but a merger of hearts? Surely that's too high a risk…