In Discretion (The Dumonts #1) by Karina Halle, Backpacking her way across Europe was supposed to fulfill one of Sadie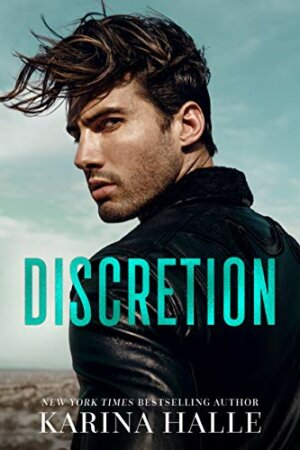 Reynolds' dreams. Instead, she's now just another American college student with dwindling funds, staying in some sketchy hostels biding her time until she heads back to her real life. But while on her way from Nice, France to Barcelona, Spain, Sadie finds herself in a bit of trouble. To her surprise, it's an obviously rich, stunningly handsome man who saves her from a robber and takes her under his wing for a while. She knows she should question Olivier's motives. Especially when he reveals he's a hotelier and part of the famously wealthy Dumont family.
'All this time, all these years, I've been looking for someone who would set my world on fire and make me new again.
It was him all along.'
Sadie has never felt so at ease with someone before. Or been so attracted to a man. Even though she knows Olivier has secrets he's keeping from her. She has to admit that she's impressed with the finer things he generously provides of course, but even more than that, Sadie is smitten with how kind and unbelievably sexy Olivier is. And he is equally taken with her. He knows that spending more time with her and bringing her closer to the vultures in the Dumont family could mean trouble for them. But Olivier isn't sure he cares. If it means they get to explore whatever is simmering between them, then he'll pay any price to keep Sadie close to him.
'I want there to be more than what there is. Yet the chances of her feeling the same, feeling it enough to stay, are slim.'
Decadent, provocative, and lush with emotions, Discretion begins a new series by Karina Halle, one of my go-to authors for romance that's a little bit wild and a whole lot satisfying.
'Our lives are made up of nothing but moments.
But I want to live in every moment with her.'
There's just something about a romance by Karina Halle that always has me sighing happily at the end of it. Each book is unique, as is the couple it portrays. And I know there will be a sweeping romance that typically spans more than one country and has the characters fighting their own individual battles that can wreak havoc on their growing relationship. In Discretion, we were mainly in France but did travel to the U.S. for a brief time while Sadie and Olivier tried to keep their romance to themselves while he was mired in family problems. And I really loved their connection. They should have been polar opposites, but Olivier and Sadie ending up being kindred spirits who both had wonderful, giving hearts. And who had been taken advantage of because of that innate goodness, unfortunately.
It was easy to see that Sadie and Olivier's romance was going to be full of drama considering they met when he saved her as she was being mugged on the streets of Nice, France. I liked that she was a bit leery of him at first. It was a smart reaction for a backpacking American college student who was swept along by an obviously wealthy, slightly older hunk. Sadie was pretty darn good at trusting her gut reactions, which I admired. She'd been through a lot in her twenty-three years, which made her adept at reading people–something that was handy when dealing with Olivier's family. And Olivier himself? Well, he was an alpha, of course. But the best type in my humble opinion: a thoughtful, intelligent, decent man…with a penchant for dirty talk. He *was* French after all! (lol)
The Dumont family played a major role in the storyline and it sounds like they will continue to do so in upcoming books. It was an interesting mix of loyalty and deceit, wealth, privilege, and yet feelings of not being quite good enough, along with some big changes in the positions each family member had within their business. Should be exciting to see what transpires next.
Karina Halle never lets me down with her uber sexy, captivating novels and Discretion was no different. With characters I wanted to hang out with in real life, and a plot that had plenty of intriguing twists, I think readers will have a fantastic time.
Book Info:

Publication: Published August 6th 2019 | by Montlake Romance | The Dumonts #1
From New York Times bestselling author Karina Halle comes a delicious saga of wealth, luxury, and scandal—and the wicked secrets of success behind an envied family dynasty.
The Riviera means indulgence—if you've got money. For Sadie Reynolds, a down-on-her-luck student, the Riviera means dingy hostels and back streets. When a wrong turn puts her in jeopardy, the last thing she expects is to be saved by the most handsome stranger she's ever locked eyes with. When she later wakes up in a luxury suite with a Mediterranean view, she's in the tender care of her rescuer: Olivier Dumont, France's most eligible bachelor, billionaire hotelier, and heir to the Dumont fashion fortune.
Olivier also owns his reputation for scandal. But Sadie is unlike any woman he's ever met. Her humble persona and wild innocence promise real passion. He's promising Sadie something too: anything she wants. From Bordeaux to Cannes to Paris, Sadie's past in America is swept away and replaced with a fantasy too good to be true.
Pulled into Olivier's orbit of wealth, glamour, and excess, Sadie discovers that the Dumont dynasty comes with a legacy of wicked secrets. And Olivier's secrets may be the most damning of all…