The Risk by Elle Kennedy is the second story in her fun and sexy new adult hockey series Briar U. It's a spin-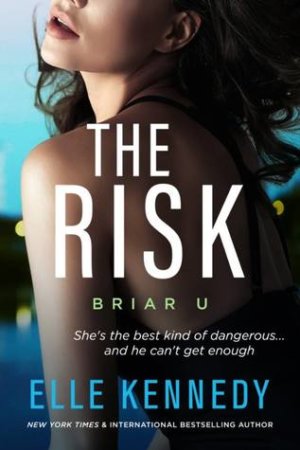 off of her popular Off Campus series, and while some familiar faces get cameos there's a new crop of friends and rivals learning about life and love as they finish their college degrees.
Brenna Jensen is in her last year of broadcasting at Briar U and hoping to get an internship with a sports network that will start her career. She loves hockey and since her dad is the hockey coach at Briar U she's knowledgeable about the sport and invested in her school team . But she's also a fan of hockey players in general and isn't above hooking up with a rival team player if he's on the same page as her – hot sex with no commitment.
Jake Connelly, Harvard team captain needs his guys to focus on beating Briar and getting into the Frozen Four tournament. If it means getting rid of distractions, like making one of his players back off from seeing Brenna, he'll do it in a pinch. But things take a turn when Brenna demands payback for Jake's interference.
To increase her chances of getting an internship Brenna touts a fake relationship with Jake for the benefit of her prospective boss who is a fan. She needs Jake to be her date for a party at the boss's house. Jake agrees – but with the caveat that for each fake date, Brenna has to go on a real one with him. He's not ashamed to admit that he'd like to explore a frenemies with benefits relationship with her. Being from rival schools means they need to keep things under wraps so his coach and her dad, lifelong enemies, don't find out. But it's not long before the heat between them starts to thaw out their formerly icy feelings. Will this modern-day Romeo and Juliet fare better than the real thing and get a happy ever after?
I loved this story! Brenna is a smart, strong heroine not afraid to speak her mind and go after what she wants. She knows she's at a disadvantage for getting the internship from the moment she meets the misogynistic man who would be her boss, but is willing to bite the bullet and go to her 'enemy', Jake, if it means she'll get the job. She's clear with Jake about her motives, just like Jake is clear with her that he's happy to play the part but wouldn't mind exploring more if she's willing. The banter in this book is fun and flirty and the sex scenes, when they decide to give in to their attraction, are hot!
The author does a great job of exploring college culture, painting a well-rounded picture of the joys and pitfalls of that stage of adulthood. Friendships are a big part of the story, with Brenna's best friend Summer (heroine of The Chase) and Jake's hockey team giving their friends advice whether wanted or not.
Brenna and Jake keep their affair a secret from everyone for several reasons but of course it comes out eventually and they must decide whether they are invested enough in each other to pursue something more serious. Brenna has a complicated relationship with her father due to the fallout from some poor decisions in high school and the impact of those events has a significant part to play as well. The hockey scenes are exciting and action packed (no spoilers about which team makes it through to the finals!). I was invested in Brenna and Jake from start to finish and their happy ending is very satisfying. I'm looking forward to the next in the series!
Book Info:

Publication: Feb 18, 2019 | Pub: Elle Kennedy| Briar U #2
Everyone says I'm a bad girl. They're only partly right—I don't let fear rule me, and I certainly don't care what people think. But I draw the line at sleeping with the enemy. As the daughter of Briar's head hockey coach, I'd be vilified if I hooked up with a player from a rival team.
And that's who Jake Connelly is. Harvard's star forward is arrogant, annoying, and too attractive for his own good. But fate is cruel—I require his help to secure a much-coveted internship, and the sexy jerk isn't making it easy for me.
I need Connelly to be my fake boyfriend.
For every fake date…he wants a real one.
Which means this bad girl is in big trouble. Nothing good can come from sneaking around with Jake Connelly. My father would kill me, my friends will revolt, and my post-college career is on the line. But while it's getting harder and harder to resist Jake's oozing sex appeal and cocky grin, I refuse to fall for him.
That's the one risk I'm not willing to take.