In Rescued by the Single Dad by Emily Forbes, when a landslide occurs at the place where he's staying,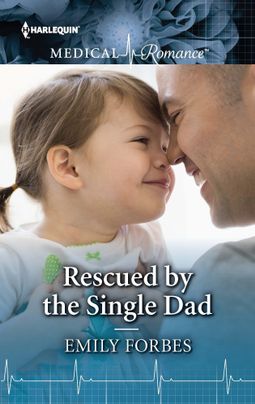 paramedic Patrick Reeves is determined to help find any survivors. So, when he finds Dr. Charli Lawson trapped under the rubble, a strong connection is formed between the pair. But Charli has been hurt and she's afraid to risk her heart again, especially when Patrick is still grieving his late wife and is a single dad. Will Patrick be able to convince Charli that forever love is worth fighting for or will they go their separate ways?
Tell me something more about you," she said to him the next chance she got. "How did you get that scare under your eye?"
"That's what you want to know?"
"Mmm-hmm, I've been wondering about it since I first saw you."
"Is that a fact? And here I was, thinking that in your jet-lagged state, you'd barely remembered me."
Ms. Forbes has delivered an entertaining and fast-paced read in this book, which deals with a tragedy caused by mother nature; and an eventful rescue that made me wonder if the first responders would ever find anyone alive. The way this story started had me liking the heroine immediately and made me understand why she needs the time away once I read more about her back story. However, it was from the moment the hero and heroine meet where this story really takes off, as there's plenty of chemistry between this pair, but the heroine isn't going to make any rash decisions. Not after the disaster of her last relationship.
As for the dialogue, it was intense due to the main characters back stories and the rescue of people that have been trapped by the landslide. However, it wasn't all intense. There was some really good light-hearted moments between the hero and heroine as well as between the hero's daughter and the heroine. Moreover, the heroine is resilient, courageous and I really felt for her with all that she goes through, as she doesn't know whether she'll be rescued. Will rescuers get to her in time? I also liked that she put her trust in the hero, even though that isn't easy for her to do. Since he's a man and men aren't too be trusted. Then again, everything he does for her while they're trying to get her free proves Patrick is a good guy. Yet, what I liked most of all about the heroine was her growing bond with the hero's daughter. It's adorable, as adorable as the hero's little girl.
"I'm not sure what we are. I think he feels a sense of duty to me. He was the one who pulled me from the building."
"I don't think he's here out of duty," Harriet said. "Have you seen the way he looks at you? I swear he wants to sweep you off your feet and take you away from here. He's your knight in shining armour. If he had a horse I could just imagine him riding in here on his noble steed." She sighed. "I've always wanted one of them."=
"A noble steed?"
"A hero!"
While the hero, he's had it tough losing his wife and raising his daughter as a single father. However, he's strong, brave, confident, smart, a good dad and I liked how determined he was to win the heroine over, even though he loved his late wife so much and doesn't know whether he'd ever be able to give the heroine everything she needs when it comes to a relationship. Will the hero realize how much he cares for the heroine before it's too late? Yet, what I loved most of all about the hero was the tight bond he had with his daughter. She's a really resilient little girl with a really big heart who needs Charli in her life just as much as Patrick does.
Overall, Ms. Forbes has delivered a delightful read in this book where emotions run high because of everything this couple go through on their journey to happy ever after, especially the rescue mission; and where the chemistry between this couple was strong; the romance was delightful and had me loving these two together; and the ending had me enjoying the determination of both the main characters to make things right between them after their relationship goes awry. How could they think that going their separate ways was a good idea? Since they needed each other to heal from the wounds of their pasts. I would recommend Rescued by the Single Dad by Emily Forbes, if you enjoy second chance romances, medical romances or books by authors Janice Lynn, Sue Mackay, Tina Beckett and Meredith Webber.
Book Info:

Publication: March 1st, 2019 | Harlequin Medical |
Falling in love…with her rescuer!
When paramedic Patrick Reeves discovers Dr Charli Lawson trapped after a landslide, he holds her hand until she's freed. They will never forget the connection of that night, but Patrick is a single dad with a broken heart, and Charli's already lost everything. She tries to stay away but he slips past her defences. Could her courageous but scarred rescuer – and his adorable three-year-old – help heal Charli's lonely heart?