The Rival by Joanne Rock is the second romance in her Dynasties: Mesa Falls series. While the story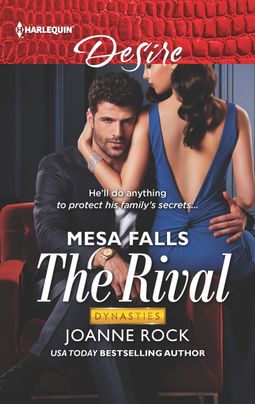 arc of the overall series will continue throughout, this is a standalone romance for two characters first introduced in The Rebel – Devon Salazar (brother of the hero in book 1) and Regina Flores, a woman hired as a ranch hand but operating with her own agenda.
Devon has come to the Mesa Falls resort to meet with his brother Marcus, the co-owner of their media empire. While he and Marcus have had a bit of conflict and haven't always agreed on the future of the company, they've called a truce and Marcus has left Devon with the task of managing a contract proposal for the resort. Devon is also trying to figure out what to do with the information he and his brother have recently learned – that their father anonymously authored a book based on a real life Hollywood couple that caused a big scandal when it was released. News of his authorship could cause a paparazzi frenzy for his mother who is about to be married to her new partner and Devon wants to avoid that at all costs.
Regina was directly impacted by the publication of Alonzo Salazar's book, as it featured her parents who ended up divorced in the fallout, and she herself was disowned by the man she'd always thought was her father until the book revealed otherwise. She's gotten a job as ranch hand at Mesa Falls to determine who knew what about the book and its author. She especially wants to know if Marcus and Devon Salazar profited from the book deal. She gives some trail rides to Devon as a way of getting closer to him which works marvelously. But Devon can tell that something isn't quite right and he's determined to find out the truth about Regina. This happens quickly and then Regina is left with a dilemma. Should she continue with her plans for revenge or trust Devon to be on her side in finding out the truth?
I really enjoyed this sequel to The Rebel, which is a great introduction to the series and the main characters who will be featured. However you don't have to read The Rebel to follow along with this one as the author gives a quick rundown of what's happened so far (and presumably will continue this trend with each book in the series).
Regina comes across as a strong character who has been hurt quite badly by the revelations in the book and it's no surprise that she wants revenge. But her attraction to Devon and his empathy for what she has gone through thwart her plans. She and Devon quickly succumb to that attraction in some passionate and sexy scenes. I appreciated that her secret identity didn't last overly long and that Devon knew whom he was dealing with fairly quickly.
Devon is equally interested in the mystery of why his father wrote this scandalous book under a pen name, and wants to help Regina in her quest for the truth while at the same time protecting his mother from any fallout should news of his father's involvement surface. He hires a private investigator to look into where the money from the book sales ended up and it looks like she'll play a role in a future book in the series as well.
Regina and Devon may have chemistry but it takes a while for them to really trust each other even after sleeping together. They will have to figure out where their loyalties lie. The setting is lovely, the ranch and rural Montana countryside making for an attractive series background. The couple work through their issues and get their happy ending, though there are still some mysteries yet to be solved. I'm looking forward to continuing the series!
Book Info:

Publication: Dec 01, 2019 | Harlequin Desire | Dynasties: Mesa Falls #2
They both have something to hide,
but their chemistry can't be contained…
Media mogul Devon Salazar wants Regina Flores, but his desire is tempered by suspicion. With sibling rivalry and his father's secrets threatening the family empire, Devon can't afford to trust Mesa Falls Ranch's nosy new hire. This won't stop him from seducing her. He looks forward to seeing Miss Flores exposed… Until the tables turn and Regina reveals their surprising connection…