In The Rogue You Know (Covent Garden Cubs #2) by Shana Galen, Never one to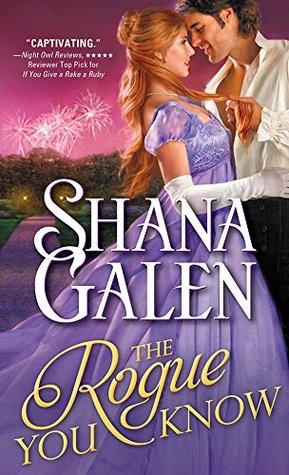 back down from a fight, thief Gideon Harrow finds himself at a standoff with Lady Susanna Derring in his haste to stash stolen goods. His gut instincts, honed from years on the London streets, tells him he should leave and not look back. But when Susanna offers a trade, Gideon escorting her to Vauxhall Gardens in exchange for her secrecy of his crime, he agrees. It may be the most foolish thing he's ever done, although he's not going to regret one unforgettable moment with the strawberry-blonde-haired beauty.
"Don't you think if I were planning to ravish you, I would have done it by now? Showing me your dirty, bloodstained leg won't throw me into a wild frenzy of lust."
She smiled at that.
"Oh, so you can smile." Gideon smiled back. "Was it the 'wild frenzy of lust'? I thought that was a clever one."
Susanna sees Gideon not only as a charming con man who she finds alarmingly attractive, but as her way out of the drudgery that is her life. She seeks to be free of her mother's constant berating and to explore the world. When Susanna joins Gideon in his escapades through parts of Town she never knew existed, she feels like she's alive for the first time. But with Gideon's enemies breathing down their necks and nowhere to stay safe, is Susanna going to lose the man she's grown to love?
"Do I distract you, Strawberry?" he whispered.
They were both whispering now. That was unwise. Friends whispered. Confidants whispered. Lovers whispered. He was none of these to her.
The Rogue You Know was a lighthearted, exciting historical romance that followed our hero and heroine as they traversed the grittier parts of London. With thieves after them and a slow-burn romance emerging, who knew where this would end up?
Author Shana Galen has a nice way of creating a plot that has just the right pace to keep a reader interested. The action never wavered in this novel, from the chases to the fight scenes to the more, ahem, intimate moments. I think what I enjoyed most was the humor that worked its way into the conversations. Gideon's dialogue was kind of smug and sarcastic, while laughing in the face of danger and taking pleasure in giving chase to those trying to stop him. Those passages were so much fun to follow!
Susanna turned out to be an interesting character. I started off shaking my head in regard to her naivety, but I think she had the most personal growth out of the characters and it was a welcome change. (Although her demanding mother made a complete turnaround as well, but I won't spoil the surprise as to why!) I liked who Susanna became when she was with Gideon and thought they brought out the best in each other, boosting their confidence.
I will confess I waffled a bit on rating this book, bouncing between 3.5 and 4 stars. On the one hand, I loved the bantering and the overall storyline itself. There was a lot to hold our attention as Gideon and Susanna traversed London, being pursued by his cronies. But for the first half of the book, it seemed like our protagonists were more like co-conspirators rather than potential lovers. I did sense a mutual attraction by the end of the book and enjoyed the way things were wrapped up for our pair, so that bumped up the rating.
Easily read as a standalone or as part of the Covent Garden Cubs series, The Rogue You Know was an entertaining story where anything could–and did–happen.
Book Info:

Published September 1st 2015 | by Sourcebooks Casablanca | Covent Garden Cubs #2
She's beyond his reach…
Gideon Harrow has spent his life in London's dark underworld-and he wants out. A thief and a con, he plans one last heist to finally win his freedom. But when everything goes wrong, he finds himself at the tender mercies of one of Society's most untouchable women-Lady Susanna Derring.
…and out of her depth.
Susanna has spent her life in London's glittering ton, under the thumb of a domineering mother-and she wants out. When a wickedly charming rogue lands at her feet, she jumps at the chance to experience life before it's too late. But as she descends into London's underworld, she finds that nothing- not even Gideon-is as it seems. As excitement turns to danger, Susanna must decide what price she's willing to pay…for the love of a reformed thief.