In The Rosie Project by Graeme Simsion, Genetics professor Don Tillman's latest project is more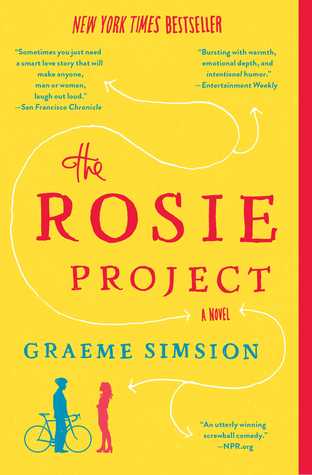 personal in nature than previous ideas he's had. Don has come to the conclusion that he is ready to find a suitable mate with which to spend the rest of his life. So he comes up with a plan and titles it The Wife Project. The first step was to create a questionnaire women would fill out based on his search for the ideal qualities in a partner, much like a matchmaker or a dating service would do. But therein lies the problem. Because as Don becomes acquainted with candidates who should be a good match, he finds that even women who score highly on his questionnaire might not make a connection with him in person.
"You considered me as a partner?"
"Sure," she said. "Except for the fact that you have no idea of social behavior, your life's ruled by a whiteboard, and you're incapable of feeling love–you're perfect."
While Don continues to refine his search for a girlfriend, he crosses paths with Rosie Jarman. He can tell that they would never work as a couple considering she is the polar opposite of everything he is looking for. But he is more than willing to help Rosie find her biological father using his genetics expertise. In doing so, Don slowly realizes that Rosie may be his opposite in personality and mannerisms, but they have something between them he can't quite define. As his friends Gene and Claudia point out, Don might have found his match in the most unlikely of people. And he thinks that The Rosie Project will be his most interesting project to date.
"You consider the situation with Rosie to be the result of genetic compatibility?"
"You have such a way with words," Gene said. "If you want to be a bit more romantic about it, I'd say you were in love."
This was an extraordinary statement. It also made absolute sense.
You know when you finish a book, sigh happily, and just want to take a few moments to bask in the afterglow? Yeah. That was my exact reaction to The Rosie Project.
I don't even know if I can put into words how much I came to adore Don and Rosie over the course of reading this book. Forgive me for referencing pop culture for a moment, but Don's character reminded me of Sheldon Cooper on The Big Bang Theory, with his analytical stance on relationships. And his lack of understanding when it came to sarcasm. I thought Don was (obviously) brilliant, hilarious–both intentionally and not so intentionally–and he turned out to actually be willing to accept change after a lifetime of following a rigid schedule. He just needed the incentive of attempting to win over the heart of The Most Beautiful Woman in the World, aka Rosie.
I loved that author Graeme Simsion wrote this as a narrative so we got inside Don's head and could understand how his impressive mind really worked. It was intriguing to watch everything from his awkward reactions to social situations, to the realization of his feelings–yes, actual feelings–for Rosie. There were so many times I laughed along with Rosie and Gene at the many blunders Don committed, that my coworkers probably thought I was losing my mind. I especially loved the formal dance he attended and the "modern dance styles" he used when things got out of control. So. Fun.
I think what I loved most about The Rosie Project, aside from Mr. Simsion's spot-on writing, was going through the process with Don as he realized that he did indeed have feelings all along. He just processed them and showed them differently than most people. His realization is mainly thanks to Claudia and Rosie not giving up on Don when it would have been easier to let him revert back to his Standardized Meal Plan and his carefully calculated daily schedule. I did also get a kick out of the subtle (and not so subtle) hints Rosie dropped to show Don that she was interested in him. She kept the conversations lively with her spunkiness and forthright attitude.
The Rosie Project is an insanely smart piece of fiction that will have you laughing and crying, feeling joy and loss…but most of all, it will leave you with the hope that there truly is a perfect match for everyone. It just might be someone totally unexpected.
Book Info:

Published June 3rd 2014 by Simon & Schuster (first published January 1st 2013)
An international sensation, this hilarious, feel-good novel is narrated by an oddly charming and socially challenged genetics professor on an unusual quest: to find out if he is capable of true love.Don Tillman, professor of genetics, has never been on a second date. He is a man who can count all his friends on the fingers of one hand, whose lifelong difficulty with social rituals has convinced him that he is simply not wired for romance. So when an acquaintance informs him that he would make a "wonderful" husband, his first reaction is shock. Yet he must concede to the statistical probability that there is someone for everyone, and he embarks upon The Wife Project. In the orderly, evidence-based manner with which he approaches all things, Don sets out to find the perfect partner. She will be punctual and logical–most definitely not a barmaid, a smoker, a drinker, or a late-arriver.
Yet Rosie Jarman is all these things. She is also beguiling, fiery, intelligent–and on a quest of her own. She is looking for her biological father, a search that a certain DNA expert might be able to help her with. Don's Wife Project takes a back burner to the Father Project and an unlikely relationship blooms, forcing the scientifically minded geneticist to confront the spontaneous whirlwind that is Rosie–and the realization that love is not always what looks good on paper.
"The Rosie Project" is a moving and hilarious novel for anyone who has ever tenaciously gone after life or love in the face of overwhelming challenges.