In Montana Actually (Medicine River #1) by Fiona Lowe, ER physician Josh Stanton has his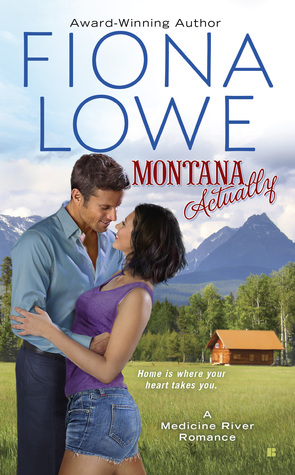 own reasons for leaving the big city to live and work in Bear Paw, Montana. It is nothing like he expects…
Katrina is an RN, who left Bear Paw in the dust years ago. What she never expected was to be home in Bear Paw again, living with her parents…healing emotional wounds and deciding what her future will look like.
Neither of them are looking for romance or any kind of relationship. Bad experiences have helped bring them to where they are today, and they are both too jaded to start anything new. But in small town Bear Paw, it would be impossible for Josh and Katrina not to meet up, even if it is in unexpected circumstances. The chemistry between them is combustible even if they can't get along. Katrina wants nothing to do with any Doctor, but Josh can't get her out of his mind. Inevitably the sparks flying between them can't be ignored…with both of their futures uncertain can they have a no strings, no emotional involvement affair?
As Katrina and Josh fight a relationship of any kind, there are other events happening that will either draw them closer together or push them farther apart.
Fiona gives us a easy, smooth read in Montana Actually. The deeper into the story I got the more involved I felt. What starts off as two people who are still so caught up in the past they are projecting it onto their present morphs into a story that is not only about them, but the people around them. I liked how Fiona drew strongly on secondary characters to give Montana Actually a lot of depth, realism, and pulled the plot together. Fiona manages to surprise and pull on your heart strings in Montana Actually, and part of this happened so unexpectedly that I felt like I was right there in Bear Paw.
Katrina and Josh are at times frustrating and at times entertaining. They are mature characters age wise, but this is not always reflected in their attitudes and actions. Both of them developed well through Montana Actually and really grew on me. I loved the strong secondary plot involving Katrina's cousin Beau and felt like I could have read a book just about his story. There are quite a few other secondary characters that really brought a lot to the story and who I enjoyed seeing through out. I hope I see more of them in future Medicine River books!
Fiona gives us realistic situations, family relationships and two broken hearted people who are struggling. Her descriptions of Bear Paw, the sky, the mountains were fantastic, and I could easily picture it.
I'd recommend Montana Actually to contemporary romance readers who like small town romance with a host of intriguing characters.
Book Info:

January 6th 2015 by Berkley | (Medicine River #1)
A big-city doctor in a small-town Montana practice….A former nurse who has sworn off doctors forever….The scene is set for passions to ignite in Big Sky Country. For readers of Robyn Carr and Sherryl Woods.
City doctor Josh Stanton and his sports car don't suit the country, but with his medical school debt about to bury him, Josh has to make the best out of a bad situation. Adjusting to his new job and life in the middle of nowhere isn't easy, but at least the views of the mountains—and one distractingly attractive local—are stunning…
After eight years away, Katrina McCade is back in Bear Paw for a break from her life, bad choices—and men. But when a broad-shouldered stranger bursts into town, she finds herself unexpectedly saddled with the town's sexy new doctor as a tenant. Katrina doesn't need a man to make her happy, especially a disgruntled physician. But try telling her body that…