I really liked The Rule-Breaker by Rhonda Nelson! While I was reading it, I found myself thinking about some of the Robyn Carr novels I've read in the past. But don't worry, Sexy Time Lovers… there is plenty of Sexy Time in The Rule Breaker. I think this book reminded me of Robyn Carr books because this one takes place in a small town inhabited by families that are very close. The feeling of community was definitely something that was in this book and I think that was one of the reasons that I enjoyed it so much.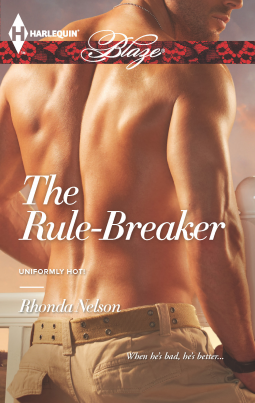 Another reason is the heroine, Shelby. I thought she was great. She's a very honest woman and, of course, she's hard working. She owns this clothing store where she designs and makes all of the clothes! She's a seamstress and she also has a few employees who are assembling her designs at a pretty rapid pace since she's trying to expand her business to the internet. So she's also ambitious! Also, Shelby is a woman after my own heart when she's talking about her insatiable sweet tooth and all of the temptation she faces with a bakery next door to her shop. Ugh, I can feel her pain! Anyways, Shelby is a great match for our hero, Eli.
Eli is a soldier and he's a very honorable guy. When Micah, Eli's best friend (and Shelby's former fiancee) kills himself, everything changes for him. Eli can't believe that his friend would leave the way he did, which is essentially to leave Eli picking up the pieces and lying to everyone about the way that Micah died. It twists and turns in Eli's gut, the way he has to be duplicitous or at least, less than honest, about that event. But his tribulations are going to continue when he arrives back in his home town to help build and be in attendance for the dedication of a memorial to Micah. It's bad enough that he's going to have to be reminded of so many memories and to lie to Micah's family but he's also going to have to be around Shelby. Shelby, who he feels it's completely wrong to have feelings for. But he does have feelings for her and he's going to have to deal with it.
There is a little bit of a mystery in this book. Shelby has been receiving threatening letters regarding Micah's death. It's not really central to the theme and I personally think that it's pretty easily solved. I kind of figured out who the perpetrator of this mystery was right away. I almost felt like this portion of the story was added so it seemed as if there was an additional conflict. I was never particularly scared for Shelby so I'm not sure what purpose it served. This is pretty much the reason that I didn't give it the highest rating.
The thing I liked the most about this book was that Shelby and Eli sort of had a jump start on their relationship. Sometimes, in some novels, it feels like we have to slog through exposition and all that just to get our hero and heroine together and admitting that they have feelings for each other. Shelby and Eli already had feelings for each other. They were friends, of course, and they were brought even closer by Micah. More than that, Eli had a thing for Shelby for years and Shelby had a thing for Eli. So their relationship was on fast forward almost. They're already practically in love and they share this grief over Micah's death which brings them even closer. It was great.
I would definitely recommend this book but I accompany my recommendation with a warning: have some tissues ready! There are definitely some sad moments and there are some really poignant moments. It's a tear jerker, for sure. But it so good that I hope you overlook that part. You'll be thrilled with the HEA and you'll love the sense of community you feel as you get to know these wonderful characters.
Book Info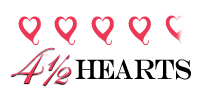 Publication Date: March 19, 2013 | Series: Harlequin Blaze (Book 743)
Subject: Ranger Eli Weston
Current Status: On leave
Mission: To honor his fallen friend—and protect his secret
Obstacle: His fallen friend's ex, who's off-limits…and off-the-charts sexy!
Ranger Eli Weston always does the right thing—even when it means defying orders. Now he's back in town to help with a memorial in honor of his fallen military buddy. This time it's not just about what's right. It's about ensuring that a secret never comes to light. A secret that only he and his friend's ex-girlfriend know…
Clothing designer Shelby Monroe has always felt an illicit something for Eli. But when the two find themselves working together to ensure the media never discover the truth about the town's fallen hero, temptation unfurls…hot, wicked and irresistible.
How far can they bend the rules before they break?