In Millionaire in a Stetson by Barbara Dunlop, Niki Gerard is on the run and in hiding. On her deathbed, Niki's mother confessed to Niki that her life would be in danger. She had apparently been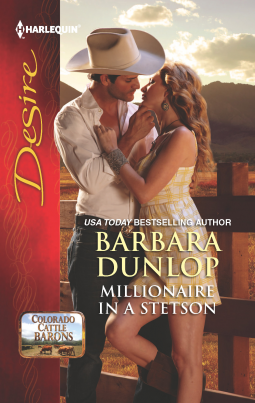 blackmailing very important and influential men, who would now go after Niki to keep their secrets hidden. She has lots of money that can help her stay safe, but she needs her mother's diary to know who to beware of.
Sawyer Layton was raised to always look after the family's well being. So now when his senator uncle asks him to locate Niki and get her mother's diary at any cost, he does what he must to get close to her and take the diary. But he doesn't expect to feel the attraction or the protectiveness he feels towards her.
While Niki may be in hiding and using another name, there is one thing she does not regret, finding out she has twin half-brothers and the family she has grown to love in a short time. Their new neighbor Sawyer Smith is very attractive, and he is making her regret her disguise as a tomboy. But if she wants to stay safe and keep her family safe she must be as different from the woman she was as possible.
Sawyer may think that getting the diary from Niki may be easy, but the more he gets to know her the more he thinks that she is not the same as her mother. Now he will have to find a way to help her before more of her mother's ex-lovers and blackmailed men come after Niki to do her harm in order to keep their secrets hidden from everyone.
If you want an fun, sexy and sweet romance, with two over-protective brothers, a sweet and sexy heroine and a very hot hero willing to turn his back on what he has always believed in, then you will like Millionaire in a Stetson by Barbara Dunlop.
Book Info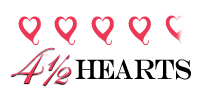 Publication Date: April 2, 2013 | Series: Harlequin Desire (Book 2224)
Keep your secrets under lock and key
One woman has the power to destroy his family and Sawyer Layton is out to stop her. Even if it means the millionaire must don a Stetson and track Niki Gerard all the way to Colorado.
But he didn't count on the gorgeous Niki having trouble of her own. She's hiding out on her family's ranch, desperate to find her mother's scandalous diary—the same diary Sawyer's after. Worse still, she's quicker to the truth. Cover blown, there's only one option left: work with Niki—and try to keep his hands to himself.