The Secret Heir Returns (Dynasties: DNA Dilemma #4) by Joss Wood is how you wish a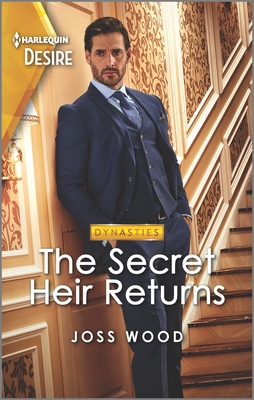 book could be. Sutton Marchant knew since he was a little kid that he was adopted by his parents. What he didn't knew was that his biological parents are Penelope, now married with James Ryder-White, and James' uncle, Benjamin (who died more than thirty years ago). Also, Benjamin set up a trust for Sutton which could be his when he turns thirty-five. But, and here's the catch, to get access to the trust, he has to attend Ryder International's annual Valentine's Ball and stay in a specific inn for two months. That's where he meets Lowrie Lewis, a single mother who manages The Rossi Inn, and sparks immediately ignite between them.
Even though they feel attracted to each other, both have scarred hearts and didn't want any commitments. That said, their physical connection is too deep to ignore, and they started a fling. Would that be enough? What will happen when emotions start to come to surface and their secrets came to light?
Sutton's insecurities as an adopted child defines his personality. He's never been able to open himself to everyone—not even his adoptive parents—and his life is a little shaken with the new circumstances. He didn't want the money or the company's assets given from someone he didn't knew, but he decided to fulfill the terms of his biological father's will to use the money in his adoptive parent's foundation. On the other hand, Lowrie was an artist with a huge talent, her paintings making millions of dollars but she left everything behind when the pressures that comes with being famous in the art world lead her to have panic attacks. Everyone she loves let her down: her parents (especially her mom), her former fiancé/manager and the father of her child. All she's focused now is her adorable son and the life she built in her family's Inn.
Both Sutton and Lowrie have a lot in common, they're stubborn, strong, forces to be reckoned. In a few words, they get the best from the other. What a hot chemistry!! So profound and exciting. Their lovemaking while Lowry is painting… Wow, wow and more WOW in capital letters. The best sex scene I've ever read in months (not to mention years).
What I loved most about this book is how Ms. Wood manages to take care of the details. Everything is well placed in the story and all the questions are perfectly answered. Not only this book questions, but the previous three stories of the series. All the secondary characters were great; bringing another perspective of the Ryder-Whites charity ball was simply magnificent. And THAT. PLOT. TWIST!! I really didn't expected that almost to the end of the book.
The fourth and last installment of the Dynasties: DNA Dilemma series is flawless, the best ending this series could ever have. Just an advice: although this book is an independent one, if you read this book, make sure of reading the rest of the series. It will help you understand the intriguing stories of the Ryder-Whites.
In conclusion, the writing of this story is pure textbook, with enticing scenes, fluid transitions, fantastic characters and fast reading that exceeded my HIGH expectations created by the series' previous books. This author is an incredible storyteller and from now on she's officially part of my fetish authors.
Book Info:

Publication: May 24, 2022 | Harlequin Desire | Dynasties: DNA Dilemma #4
When this lost heir finds his biological parents, will he inherit a fortune, a baby or both? Find out in Joss Wood's page-turner Dynasties: DNA Dilemma novel!
Will a surprise inheritance lead to not one
but two found families for this secret son?
Rejected by his birth family, author and finance whiz Sutton Marchant made his own way in the world. Now he's back to fulfill the terms of his birth father's will, which means staying with Lowrie Lewis, the irresistible manager of the Rossi Inn. The last thing he needs is a distraction like her and her son, but he's floored by their fierce attraction. Sutton came to claim what's his, but will Lowrie lead him to the biggest prize of all?
From Harlequin Desire: A luxurious world of bold encounters and sizzling chemistry.
Love triumphs in these uplifting romances, part of the Dynasties: DNA Dilemma series:
Book 1: Secrets of a Bad Reputation
Book 2: Wrong Brother, Right Kiss
Book 3: Lost and Found Heir
Book 4: The Secret Heir Returns