Can't Help Love by Claudia Y. Burgoa: If ever there was a person that Maia hated it would hands down be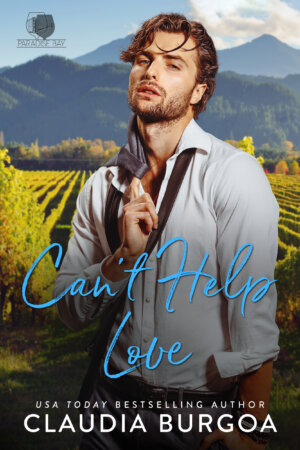 Gatsby Spearman. Not only did he ghost her in college but he also went and stole their shared program and passed it off as his own work. If that wasn't bad enough the guy went one step further by using their program to start up his multi billion dollar company, talk about the worlds biggest jerk! Now all Maia wants is revenge and what better way to get revenge than to hit Gatsby where it hurts most his precious company, help him pick up the pieces and then give him a taste of his own medicine by ghosting him this time round. This would have really been the best laid plan if only Maia had taken into account their insane chemistry which only seems to have grown…
There is just something so amazing and catchy about a good second chance romance and that is exactly what Burgoa has done with Can't Help Love. This second chance romance had an extra zing of enemies to lovers trope thrown into the mix which will draw you right in from their shared history and have you hooked as they try to deny their incredible chemistry.
I really got where Maia was coming from, like no one wants to be ghosted much less feel cheated out of their hard work. But I have to give it to her, she put aside all this pain and built herself an empire and gosh was she killing those girl boss vibes! I really liked her strong, independent nature and that she knew what she wanted even if it meant getting her hands dirty.
As much as Maia hated Gatsby, once you get reading their story you will find it impossible to hate this guy. I just loved getting to know his character better and learning about the reason behind the 'betrayal'. His dedication and love for his family was pretty clear from the extent of things that he was willing to do and sacrifice for them and I really liked that now he was finally doing something for himself and following his own love.
I really enjoyed getting to see him try and win back Maia, the flirty banter between them was so on point it was impossible not to root him on on his pursuit to win her heart back. The angst in this book was at an all time best for Burgoa and boy oh boy did Maia make Gatsby work to win her back, for all their angsty drama there were plenty of laughs and cute moments padded throughout the story.
Can't Help Love is the perfect angst filled second chance, enemies to lovers romance that will have you swooning at Gatsby's determination to win back his soulmate and rooting on Maia for making him work to win her trust back.
Book Info:

Publication: May 10, 2022 | Pub: Claudia Y. Burgoa | Paradise Bay Billionaire Brothers #2
They'll get their second chance at love… if they don't kill each other first!
If I ever cross paths with Gatsby Spearman I might just push him from the tallest building in San Francisco.
Saying that I don't like him is an understatement—I hate him.
The prick ghosted me in college, stole the program we created to start a billion-dollar company—oh and I failed a class because of him.
I want revenge. And I want it to be petty.
I created an infallible five-step plan to make him pay for what he did to me.
1. Destroy his company.
2. Hire him out of pity.
3. Make him fall in love with me.
4. Rip out his heart.
5. Ghost him while he's crying from a broken heart.
Simple, right?
Except, I didn't take into consideration the old college chemistry rearing its ugly head and bringing us closer together despite everything we do to fight it.
I want vengeance, all he wants is to flirt.
Though, I don't plan on falling for his antics.
I'll play this to win.
Let the games begin.