The Secret Ingredient by Nancy Naigle is a sweet second chance romance that literally screams Hallmark.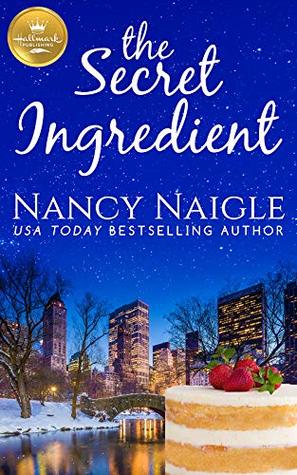 Delightful characters grace the pages and keep readers engaged and hungry!
Kelly and Andrew used to be the golden couple. They were planning a wedding and had dreams of opening a restaurant together. He would do the cooking and she, the baking. They complimented each other's skills very well. But Andrew was offered an opportunity to go to Paris and work on his craft. He was supposed to come back, but life had other plans.
Kelly is brilliant. She's talented, kind, and has worked hard to make her dreams a reality. Kelly didn't wallow for years when Andrew left. No, she picked up the pieces and made things happen. Because of that, she now owns her own bakery, employing many people and is doing quite well for herself. So well, that she's been offered a chance to compete in a Valentine's Day bakeoff. Kelly's sole focus should be on this competition, but when a blast from her past comes back home, her emotions are
Andrew is only back home for a few days and originally, had no intentions of seeing Kelly. He recognizes that he didn't handle the end of their relationship right and doesn't want to make it worse. But again, life has other plans or should I say sneaky siblings do. For Kelly, seeing Andrew again just relives the heartbreak, she's tried to get over. But for Andrew, it's a reminder of how much he loved Kelly. All the good memories come crashing over him and suddenly, he's exactly where he's supposed to be.
All the desserts mentioned had my mouth watering. Their descriptions made me feel as if I could actually taste them, if I just closed my eyes and wished it so. I am almost tempted to try out the recipe in the back of the book for the Honey Almond Cake. Not only does that cake bring our characters back together, making them realize their feelings for each other never left, but it sounds delicious!
For those who enjoy second chances, small towns, and desserts, make sure you pick up this charming read!

Book Info:

Publication: February 12, 2019 | Hallmark Publishing |
Love is like a perfect recipe…
You never want to lose it.
Years ago, Kelly McIntyre and Andrew York were engaged and dreaming of opening a restaurant together. Then he chose an opportunity to study in Paris over the small-town life they'd planned, and their romance came to a bittersweet end.
But Kelly's doing fine. She's not only the owner of a potbellied pig named Gray, but also of her own bakery. Business is good—so good that she's invited to compete in a Valentine's Day bake-off. As she prepares for the contest, she tries not to get distracted by Andrew's visit to town.
When Andrew sees Kelly, it stirs up his old feelings. Little does he know that soon, in New York, he'll compete against her in the bake-off…and they'll both realize how much their past is a part of them still.