In The Secret the Italian Claims (Secret Heirs of Billionaires #14) by Jennie Lucas, without a job or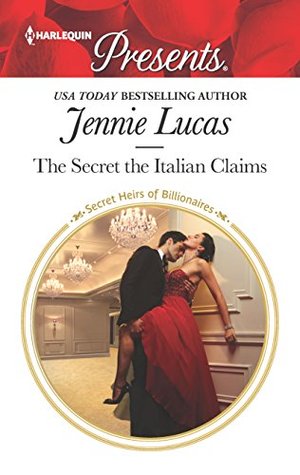 much money to her name, Hallie has no way of taking care of herself or her baby. Going to the child's father is something she doesn't want to do, yet, it seems she doesn't have much of a choice. However, when Cristiano realizes the secret she's hiding, will he do what's right by his child or will Hallie make things difficult for him?
"I won't let you do this," he said hoarsely. "I won't let you take our baby away."
"Why?" she said scornfully. "Because you want to be a father?" Her eyes glittered. "Don't make me laugh. You're a selfish playboy, Cristiano. An indecent excuse for a man. You couldn't love someone if you tried, not even your own child. And now that I have enough money to support my baby, I don't want any part of you."
Ms. Lucas has proven again that she's brilliant at writing an opposite attract trope encompassing story where the hero is an arrogant, rich playboy that doesn't care who he hurts to get what he wants and where the heroine is sweet and innocent, but can be quite feisty when she needs to be to make the hero understand that he'll never have the chance to hurt her again. The way this story started had me sympathizing with the heroine, as the hero hurt her badly by taking away everything she needed to be able to support herself. So, there's only one thing left for her to do and that's to get the money owed to her. Will she tell the hero the truth of her situation?
As for the dialogue, it was intense due to the main characters back stories and everything these two go through on their journey to happy ever after. Why should Hallie tell the hero what's going on in her life when he did what he did after they spent an incredible time together once he seduced her? Then again, the hero has been through a lot in his life before making his millions and I could understand why he won't allow Hallie to disappear from his life again. Moreover, the hero is confident, driven and lives by the ideal 'You can only rely on yourself', which is proven by how ruthless he is. Will he get his way with Hallie this time around? What is he willing to do to make sure she stays in his life? While the heroine, she's resilient, courageous and I liked how much of a challenge she provides the hero because he hurt her badly and it's going to take a miracle for her to ever trust him again. I also liked the decisions she made because she has dreams for her life that she isn't going to let anyone stand in the way of. She wants everything when it comes to love, family and happiness.
"Do you really mean it? We can stay?"
"Forever, if you want." He cupped her cheek. "Because you're not just my wife. You're my love song," he whispered. "My happiness, me heartbreak and joy. You're my everything."
Looking down at her hand wrapped in his larger one, Hallie felt her heart in her throat. "And you're mine." She looked up at him, blinking back tears. "From the moment you said you loved me, all my childhood dreams came true. We can live in New York or anywhere in the world. Because now I know, for the rest of our lives," she breathed, her eyes shining with joy, "wherever we live, we're home."
Overall, Ms. Lucas has delivered a really good read in this book where the chemistry between this couple was intense and kept getting stronger every time the heroine challenged the hero; the romance was delightful; and the ending had me loving how the hero shows the heroine how much he loves and cherishes her and that he never wants to let her go. I would recommend The Secret the Italian Claims by Jennie Lucas, if you enjoy the opposites attract trope, the enemy to lovers trope, the surprise pregnancy trope or books by authors Angela Bissell, Sharon Kendricks, Lynne Graham and Caitlin Crews.
Book Info:

Publication: July 1st, 2018 | Harlequin Presents | Secret Heirs of Billionaires #14
She kept his child hidden…
Now he'll claim them both!
Cristiano Moretti is furious that Hallie hid the consequences of their hot night together! He will not inflict his own childhood abandonment on his son, so he demands that Hallie marry him. Soon they realize the passion between them is as powerful as ever…but when all Hallie wants is a real family, will Cristiano's seduction be enough to secure his legacy?