Part-Time Husband by Noelle Adams is the first in her new series Trophy Husbands, and a fun and sexy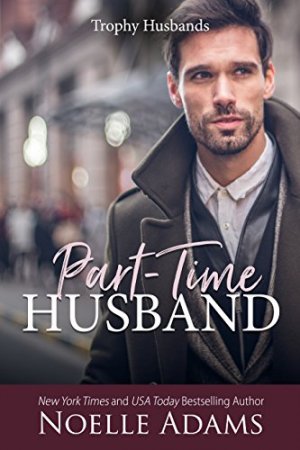 enemies to lovers/marriage of convenience romance.
Melissa Greyson has worked hard to make her way into a high position at her family company and nothing is going to derail her plan to stay there, not even a marriage demand from her grandfather. He threatens to cut off the money that her sisters rely on and take away her job and she knows these are not idle threats. Thinking quickly on her feet, she tells him that she has a boyfriend. His response? Marry within the week.
Melissa can think of only one man who might be willing to go through with a charade of a marriage if what he'll get in return is a good enough trade – her sometime arch enemy Trevor Bentley. When he'd been shot down for an advertising job at their firm, he'd gone on to do bigger and better things with their competition. He's smug, arrogant – and single. She hopes to convince him to give her marriage deal a chance by offering him a brand new coveted advertising contract. To her relief, Trevor accepts. With a one year deal in hand, their marriage is off to a solid, businesslike start. At first sex is off the table, but they find that the attraction between them is too strong to deny. Can their marriage of convenience turn into a lifetime of love?
I always enjoy Noelle Adams sexy contemporary romances and this is a great start to what looks to be a fun series! It's told from Melissa's point of view but we get a good idea of Trevor's character from his actions and words. While Melissa had always thought him to be cocky and over-confident, the truth is that he's had to work hard to get where he is and has done a good job of keeping his real emotions hidden. He regularly spends time with his parents on Saturdays though it's not until a few months into their marriage that Melissa finds that out, and that he left a good job in New York to come back to Charleston to help support them when his father got injured. He's not the arrogant guy she'd always assumed him to be.
Their love scenes are very sexy and cement the emotions that they are starting to feel though neither wants to admit that they might be falling for the other. Melissa spends time at a family dinner every weekend and Trevor comes with her, giving her support. Her grandfather is not pleased with her marriage to Trevor as he doesn't like him which makes for some strained times for both of them. It also makes Melissa realize how unfairly she and her sisters have been treated by her grandfather and gives her the courage to stand up to him. While Melissa and Trevor have their ups and downs, and mistakes are made on both sides, they finally are able to admit what they want from each other and get a happy ending that is truly satisfying. I'm looking forward to reading more of this series, and watching Melissa's sisters get their happy ever afters too!
Book Info:

Publication: May 29, 2018 | Self Published – Noelle Adams | Trophy Husbands #1
On a Wednesday afternoon, I ask Trevor Bentley to marry me. He might be the most arrogant, obnoxious man I know, but I need him to be my husband for a year.
There are reasons.
He's not going to be a real husband. Just part-time. Yes, I have to live with him. And, okay, I also have to share his bed. And, sure, he's the sexiest and most exciting thing to ever happen to my controlled, organized life.
But still… It's only a part-time marriage. I'm not going to give him my heart. I know what I'm doing, and I'm too smart to fall for my husband.
I hope.