The Sheikh Crowns His Virgin by Lynne Graham: Zoe is the last of her siblings to get married with their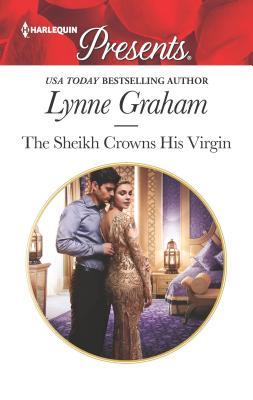 grandfather's interference. She's looking forward to learning more about her heritage and hopefully gain some independence and confidence. Zoe hasn't quite come out of her shell as she battles anxiety and doesn't trust men.
Raj loves his country and he works tirelessly to better his country despite being exiled. Raj is smart, sexy, charming, and knows his own mind. He was raised to become the next king with a strict adherence to duty, protocol, and following orders, except he wasn't always great about following orders.
Zoe is shocked to find herself drugged and kidnapped shortly after arriving in Maraban and presented with none other than the commanding Raj as a fiancé. Raj is so different from all the men she's previously encountered and he's mostly honest with her. Both are surprised by the immediate attraction they feel and how rapidly their situation changes.
'I'm afraid I can't tell you that,' Raj countered flatly.
Zoe's green eyes flared as if he had slapped her. 'Why not?' she demanded.
'It would serve no useful purpose.'
Marrying Raj is an impulse decision, but he stands by his promises to her. They barely know each other and have to adjust to their relationship and the level of interest everyone has in their marriage. Their relationship transitions into a deeper and unexpected bond as they get to know each other. He loves how she stands up to him and she appreciates how he makes her feel safe and protected.
'How honest can I be?' Raj asked.
'I want you to feel that you can always be honest with me. In fact, that's very important to me.'
'Even if it embarrasses you?' Raj prompted.
'Even if it embarrasses me,' Zoe confirmed without hesitation.
The Sheikh Crowns His Virgin is a mix of sweet and sexy. Lynne Graham incorporated meddling family, banter, heat, denial, and heart. Ms. Graham developed the characters and romance in an exotic desert setting. Fans of Sandra Marton and Lucy Monroe will enjoy The Sheikh Crowns His Virgin.
Book Info:

Publication: May 21st 2019 | Harlequin Presents | Billionaires at the Altar #3
From innocent in distress…
To convenient princess
To escape her overprotective family, sweet-natured Zoe Mardas heads to the desert kingdom of Maraban for an adventure. But she's kidnapped on arrival! Zoe is saved by mysterious and devastatingly handsome Raj—the nation's exiled prince. The attraction between them is instant—and fiery like the desert sun! Yet her rescue comes with a price: to save them both from a political scandal, Zoe must become Raj's virgin bride…
Turn the page and step into the sheikh's desert kingdom…