Sniper's Pride by Megan Crane is the second story in the author's exciting Alaska Force romantic suspense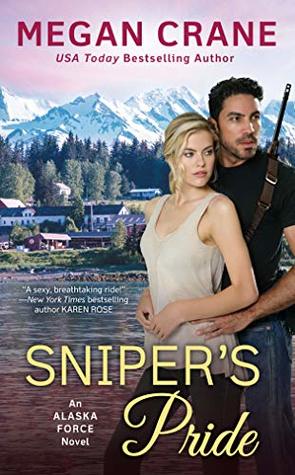 series, about ex-military operatives who use their skills to solve deadly problems – and end up finding women willing to be their partners when the dust settles.
Mariah McKenna is sure that her soon to be ex-husband is trying to kill her. After ending up in the hospital twice recently with anaphylactic shock from an unknown food source, she's desperate for help. Contacting the Alaska Force, a shadowy group she'd heard about from an internet source, she sends them a succinct message, and their response is just as brief – get to Grizzly Harbor, Alaska and they'd take it from there.
Griffin Cisneros likes his quiet, relatively solitary life. He's an ex-marine sniper who uses his skills to keep his Alaska Force team whole and successful in their missions. When Mariah shows up, it's his turn to be lead on the mission, but it doesn't mean he has to like her. She reminds him superficially of his ex-girlfriend who had ditched him after his last tour of duty (conveniently before the wedding invitations had been mailed out), with her big blond hair, and sweet Southern voice. Mariah has a backbone of steel and a will to survive as evidenced by her willingness to seek out Griffin and his team. His job may be to keep her safe – but will the risk to his heart be too great?
What an exciting and intense read! This is one of those stories that will keep you hooked until the very end. Mariah's fear is palpable, and there is a suspenseful vibe from the beginning as she realizes that she isn't safe anywhere that her almost ex-husband David can reach her. She lays a false trail to get to Grizzly Harbor but even there, things happen to make her wary. The only time she feels completely safe is when Griffin is by her side. He is so different from her emotionally abusive husband that even when he's being stoic and grumpy (his normal state of being) she knows that he has a kind heart and would never treat her ill.
Griffin and Mariah develop a solid trusting foundation from the start and it eventually leads to a more intimate relationship with a very sexy night together. They are very different people, definitely an opposites attract type of couple. Mariah grew up in a poor rural family, pulled out of that life by a man who should have been her Prince Charming but was in fact the villain of her story. She became a society wife but it came with a great cost, one she could no longer bear which precipitated her desire for a divorce and her current status as a woman on the run. Griffin has a loving family back home, but his tours of duty and his sniper skills have turned him into a man with emotions frozen under the surface, until Mariah breaks through that ice. Freed from her former life, she can finally show her warmth and her true self to Griffin and his friends and it gives Griffin a taste of what he could have if she were to stay.
But Mariah isn't the only mission in hand for the Alaska Force and when their attention is distracted, Mariah's situation turns dire. The second half of the story is a real page turning, intense and action packed jump from one scene to the next as Griffin fights for Mariah, and their possible future together. Mariah has had enough of men's expectations and knows what she wants for her life. It's up to Griffin to show whether he's worthy of her love.
The author does a great job with the Alaskan setting in this series, conveying the crisp air and peaceful tranquility of Grizzly Harbor with its unique and likable quirky characters in a very believable fashion. There are some great scenes with Griffin and the Alaska Force teammates that hint at some future story ideas, and all of the men on the team are definitely worth getting to know. If you like action, sexy romance and a healthy dose of suspense, I highly recommend Sniper's Pride. I'm looking forward to the next in the series!
Book Info:

Publication: May 07, 2019 | Berkley | Alaska Force #2
After Mariah McKenna lands in the hospital with a life-threatening anaphylactic reaction she knows she didn't cause, she realizes her cheating, vindictive husband would rather have a dead wife than a divorce. Afraid that he will succeed in killing her next time, Mariah goes to Grizzly Harbor to hire one of the Alaska Force special operatives to help her survive long enough to finally live a little.
Griffin Cisneros traded in a comfortable future for boot camp, where he learned the virtue of patience and focus—skills that served him well as a Marine sniper. Few things get to him these days, but something about Mariah's mix of toughness and vulnerability gets right under his skin. Until it's clear she's the one thing in the world that might melt the ice in stoic, reserved Griffin, whether he likes it or not.
If he can just keep her alive…