In The Sheikh Doc's Marriage Bargain by Susan Carlisle (HQN), Dr. Laurel Martin works hard, so it's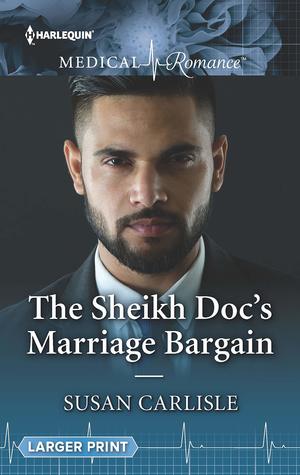 no wonder Sheikh Tariq Al Marktum wants her to head up the lab he's created in order to find a cure for hemophilia. However, if she accepts the position, there's only one way for Laurel to avoid scandal from being a single woman in his country living in the palace and that's entering into a marriage of convenience with Tariq. Will Laurel be able to handle being married to Tariq, especially when the marriage is in name only or will she walk away before she gets her heart broken?
"When were you going to tell me about Roji and your brother having hemophilia?"
"I thought it would come out. Zara told you about Rasheed, did she not?"
"She did. But why not mention it earlier? Didn't you think it would be of interest to me?"
He looked at her. "That is the problem. Too many people are interested."
"The media?"
"Yes. Some things even royalty has the right to privacy about."
I absolutely love Ms. Carlisle's writing style. It's sublime and every book I've read by her has been captivating, fast-paced, filled with wonderful characters that have kept me entertained from start to finish and dialogue that gets me so wrapped up in the growing relationship of the main characters and wanting to get to know the pair better through their back stories and this story was no different. Really, right from the beginning of this story I was completely hooked because the heroine is a very determined woman to find a cure for hemophilia and the only way possible to achieve such a feat would be to accept the Sheikh's offer. Or so she believes once she realizes she may not be able to achieve such a feat at the place where she works. Will she marry Tariq? Will she accept his offer and be able to handle every bit of media attention she's bound to receive? Will she be able to handle running such a huge lab as the one the hero has created?
With the main characters, the heroine is smart, resilient, courageous, independent, passionate when it comes to her work and I liked her determination to help those she can in any way she can. Will she be able to find a cure for hemophilia? I also liked that the heroine gave the hero a chance, even knowing that Tariq could very well break her heart. Then again, he may prove her wrong. Yet, what I liked most of all about the heroine was how well she handles every obstacle she faces throughout this story and doesn't hold back in the moments when she challenges the hero.
While the hero, he's confident, a little arrogant in believing he can get anything he wants, a family man that will do anything for those he cares about and I loved his determination to win over the heroine. In the beginning, his pursuit of her had me smiling because she isn't the easiest person to win over. Not even when he's offering her the one thing she wants most – the chance to achieve her number one goal. Will the hero be able to convince the heroine? Will the hero be able to help his family?
"I'm showing you I desire you. So soft. So smooth." His hands repeated its travels.
"You don't desire me. I'm just convenient. I'm not even your type."
"Normally I would agree. But the fact is you interest me, Laurel Al Marktum." He put emphasis on the last name. "A great deal."
"The great bachelor Prince could only want me for one reason."
"And that would be?" His voice was deep and sultry like the warm night air.
"As a conquest." She'd been that before but never again. She wanted a love for a lifetime.
Overall, Ms. Carlisle has delivered an entertaining opposites attract trope encompassing read in this book where the main characters back stories made them cynical to relationships, but had me loving that these two gave each other a chance; the chemistry was potent, even though the heroine believes she isn't the hero's type; the romance was delightful because there's no denying the attraction for this pair; and the ending had me smiling due to the hero's determination to win back the heroine after their relationship goes awry. Will the hero's sneakiness cost him everything or will the heroine give him another chance? Will the heroine be able to trust the hero again after what he does? I would recommend The Sheikh Doc's Marriage Bargain by Susan Carlisle, if you enjoy medical romances, the marriage of convenience trope, the opposites attract trope or books by authors Becky Wicks, Annie Claydon, Dianne Drake and Alison Roberts.

Book Info:

Publication: April 16th, 2019 | Harlequin Medical |
From shy Cinderella…to convenient princess!
For sensible Dr. Laurel Martin, heading up a new lab for royal doc Sheikh Tariq Al Marktum is the chance to conduct the study of a lifetime. But to protect Laurel from the scandal her presence in his palace will cause, Tariq has his own condition—a paper marriage! Swept into his desert kingdom, passion overtakes the convenient couple, but can Laurel find her place in Tariq's world—and his heart?