In Alpha's Promise by Rebecca Zanetti, vampire-demon hybrid Ivar Kjeidsen, a member of the Seven, has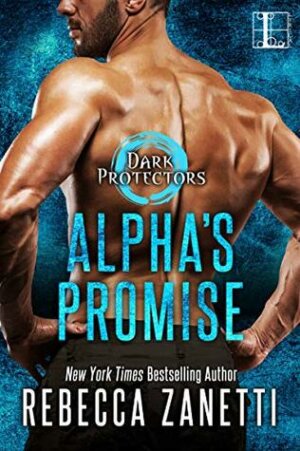 survived a trip to hell. Now that he's been there, he's determined to keep his vow to Quade—he would return to hell to take his place. Only problem is, he can't find a way to get back there. The Seven believe that Dr. Promise Williams is the key to finding the way back.
When it's revealed what The Seven want from her, Promise agrees to find a way to help them. But the more time she spends with Ivar, the more hesitant she becomes. She doesn't want Ivar to go back to hell. All too soon she makes a discovery that doesn't look good for anyone. Will she be able to help Ivar keep his promise while being able to keep him for herself?
While I enjoyed the book overall, I think this is probably my least favorite one of the series since The Seven storyline began. I thought it focused too much on the science and not enough of the relationship between Promise and Ivar. At times it felt like a lot of information was being dumped onto readers. I understand it helps explain the dimensional worlds and all that, but I felt it was a little too much, and took away from developing Promise and Ivar more.
Promise initially comes across as cold and scientific, basing everything on facts, but then she's quick to believe in vampires and demons. I had a hard time believing how quickly she accepted that as fact. She's also very quick to agree to help the Seven find a way to get Ivar back to hell.
I liked Ivar, but I also thought he was too determined to get back to hell. I understood he wanted to get Quade out and take his place, although Quade told him no, but he didn't want to hear it. He also wasn't very willing to consider other options. And when Promise tells him he might not be able to make it back again if he goes, he's still insistent on going, even if it means he'll never get back to the woman he loves. If he loved her so much, I would have thought he would have made more of an effort to put her above Quade.
It was nice to catch up with the other characters. Readers get to see more of Kane Kayrs and some other members of the Kayrs family. It was really the first time since the storyline of The Seven started that readers get to the Kayrs family jump into the fray.
Drake and Hope meet again in the dream world and finally arrange to meet in person. I'm interested in seeing what this is leading to, especially since Drake's father seems to be a shady character, up to no good, while Hope refuses to believe that Drake could be following in his father's footsteps.
Readers are introduced to a new character who has painted Quade. The Seven aren't sure if she's having visions of him, or if she's actually visited him in the hell dimension. I'm looking forward to seeing where this is going to lead, as well. It made me feel like there may be hope for Quade, after all.
This is the tenth book in the series. While you don't have to read all of the previous books, I do recommend that you've at least read both the eight and the ninth books in the series before reading this one (Vampire's Faith and Demon's Mercy). Vampire's Faith is where the storyline about the dimensions and The Seven started, and the following books have built up off of that one.
While Alpha's Promise wasn't my favorite book of the series, it was still a good read. The characters– especially the secondary characters–are entertaining, and I'm looking forward to seeing what happens next.
Book Info:

Publication: June 25, 2019 | Lyrical Press | Dark Protectors #10
Though he has vampire, demon, and Viking blood rushing through his veins, Ivar Kjeidsen's soul-crushing trip to hell broke him in ways he can barely fathom. One vow keeps the deadly immortal standing: To rescue the vampire brother who had sacrificed freedom for him. To do that, Ivar needs the help of a brilliant physicist with wary brown eyes, fierce brilliance, and skin that's way too soft.
Dr. Promise Williams understands the underpinnings of the universe but has never figured out the human beings inhabiting it. Her function is to think—and not feel—until she's touched by a vampire who's nowhere near human. The primal hunger in his eyes awakens feelings in her that defy calculation. As she shows him the way to step between worlds, he brands her with a pleasure that could last more than a lifetime.