In The Sheikh Doctor's Bride by Meredith Webber, ER doctor Kate agrees to marry the gorgeous, brooding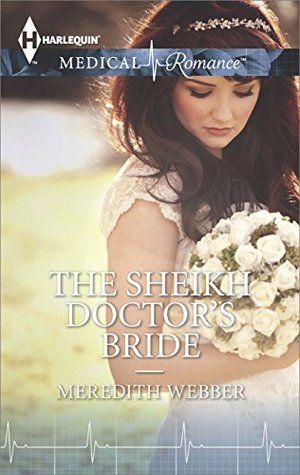 sheikh Dr. Fareed Faruke to save her family's livelihood.
Fareed has always known he'll never have a say in who he marries, but he's shocked to see beautiful Kate behind the gold silk veil. She's the one woman he shouldn't want—and yet the only woman he can't seem to resist…
The Sheikh Doctor's Bride by Meredith Webber is a well written marriage of convenience romance with an Arabic setting. The medical details were interesting and enough for a medical romance.
Kate and Fareed are both likable characters who slowly and steadily learn to open their hearts. Kate does not believe in love because a previous romantic relationship left a bad taste in her mouth. The story moves along at a nice pace and does not drag.
The romance is emotional, passionate and does not appear to be forced as everything happens gradually and naturally. The author's fans and everyone who loves Sheikh romance are gonna love this one.
Book Info:

Published February 2015 by Harlequin Medical Romances
Married to the Sheikh…
ER doctor Kate will do anything to save her family's livelihood. So when the Sultan of Amberach offers her a lifeline in exchange for her working in his state-of-the-art hospital and marrying his nephew—gorgeous, brooding sheikh Dr. Fareed Faruke—it's a deal Kate has to accept!
Fareed has always known he'll never have a say in who he marries, but he's shocked to see beautiful Kate behind the gold silk veil. She's the one woman he shouldn't want—and yet the only woman he can't seem to resist…