The Shoe Diaries (The Friendship Chronicles #1) by Darby Baham is a book I didn't expect to be so alluring.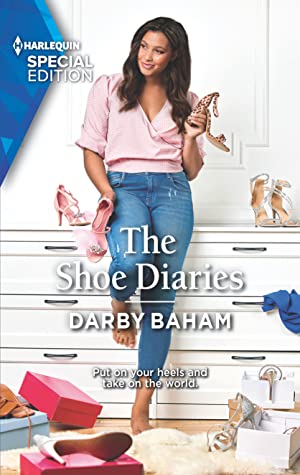 After one of her best friends, Christine, is hospitalized, Raegan Doucet realizes that her life isn't the way she always envisioned it on every possible level. This is why she decides to make a "risk list" to get out of her comfort zone. The reward? A new pair of shoes for every goal achieved on her list. In the process, Rae will discover several interesting things about herself in terms of work, love, relationships and emotions. In addition, she will have to leave behind her fears and overcome her past with Jake Saunders in order to give love a new chance.
Raegan is a woman of her time, with definite ideas and her positions regarding what she wants in life are firm. At the same time, we see a woman who has been hurt and fears that she will be hurt again, especially when it comes to love. It's this vulnerability, especially in times when she needs to be the strongest friend when Christine is at her lowest point, that keeps Rae from coming off as arrogant. Also, the loyalty to those she loves most makes her a phenomenal character. Likewise, her love for Jake takes her down different paths but they confront her reality: she has a hard time letting people in.
I have to say that this book impressed me with its writing format. Normally in Harlequin Special Edition, we see the typical love story in which the main characters live the plot from their points of views (or one of them, sometimes), and interacting with each other. In this book? Everything goes around Raegan and her introspection process that leads her to make the decisions which will make her a better woman. The story is very well written and narrated in an amusing way. Also, the secondary characters are well drawn. Equally, the "Shoe of the day" posts on Instagram were funny. That said, one little detail that I can't miss is that Christine is Latina, and there are a few misspellings on some Spanish words (sorry; as a Latina, I can't help notice them). On the other hand, I would have liked more Jake and Raegan interactions. At least one or two more scenes (since this is all about Rae, as I said earlier), to fully appreciate their love.
This story could be called "the black version of Sex & the City", but it's much more than that. Yes, we see a group of friends who go on a trip, buy shoes (which I love!!) and tell their stories with a glass of wine in their hands. However, the plot highlights the union between friends, family values ​​and how love always wins over fear.
This is my first book by this author, and it won't be the last. The clever way Ms. Baham shows Raegan's emotional journey was unique. I look forward to the next book in this series.
P.S.: I want Raegan's shoe collection!!
Book Info:

Publication: January 25, 2022 | Harlequin Special Edition | The Friendship Chronicles #1
It's never too late to put your best foot forward
From the outside, Reagan "Rae" Doucet has it all: a coveted career in Washington, DC, a tight circle of friends and a shoe closet to die for. When one of her crew falls ill, however, Rae is done playing it safe. The talented but unfulfilled writer makes a "risk list" to revamp her life. But forgiving her ex, Jake Saunders, might be one risk too many…
From Harlequin Special Edition: Believe in love. Overcome obstacles. Find happiness.
The Friendship Chronicles
Book 1: The Shoe Diaries