If The Shoe Fits by Megan Mulry is the follow up story to A Royal Pain by Megan Mulry. At times the antics of Devon and Sara are richly humorous and at others, they are so sexy they threaten to combust. This is the perfect romance for your summer beach bag!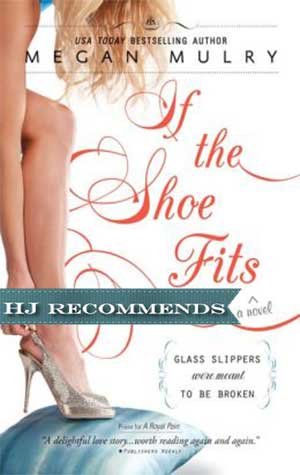 Devon Heyworth is the younger brother of the 19th Duke of Northup. He has gone through life not taking anything too seriously. He learned at a very young age to hide his brilliance from the world. He is the best man in his brother's upcoming wedding. While at the rehearsal dinner, he meets the lovely Sara James, who is to be the maid of honor. Devon is instantly attracted to Sara and he strikes up a friendly flirtation with her. When Sara promises to be a "sure thing," Devon is at a loss for words, but his active imagination takes over.
Sara is a beautiful American entrepreneur who designs shoes for a living. She finds Devon to be a handsome rake who she is willing to give up her virginity to. Devon seems like the perfect candidate to have a fling with and possibly to be a port of call when she returns to London on business. This situation suits Devon just fine because he has no intentions of ever losing his heart to any woman.
When Devon comes to the states for a visit, Sara invites him to stay at her place. Things are going well between the two until Devon spots Sara exiting a car with another man and becomes jealous. It is apparent that Devon has invested more of his feelings into their encounters than either he or Sara are comfortable with. Do these two stand a chance at love when they are both so set against any kind of serious relationship?
If The Shoe Fits is a rollicking, laugh out loud, feel good novel that will leave you with a smile on your face. Megan Mulry has cleverly crafted an unforgettable tale of substance that proves that love will always prevail in the end. I highly recommend that you get yourself a copy today!
Book Info

Publisher: Sourcebooks Landmark (July 2, 2013) | Series: Unruly Royals #2
The only thing worse than being in the spotlight is being kept in the dark…
With paparazzi nipping at his heels, Devon Heyworth, rakish brother of the Duke of Northrop, spends his whole life hiding his intelligence and flaunting his playboy persona. Fast cars and faster women give the tabloids plenty to talk about.
American entrepreneur Sarah James is singularly unimpressed with "The Earl" when she meets him at a wedding. But she's made quite an impression on him. When he pursues her all the way across the pond, he discovers that Miss James has no intention of being won over by glitz and glamor—she's got real issues to deal with, and the last thing she needs is larger-than-life royalty mucking about her business…