A night of passion under false pretences leads to a pregnancy in The Sicilian's Unexpected Duty by Michelle Smart. Pepe Mastrangelo left Cara Delany without a single glance after spending an unforgettable night with her. Four months later, he meets her again reluctantly at his niece's christening and is shocked when Cara informs him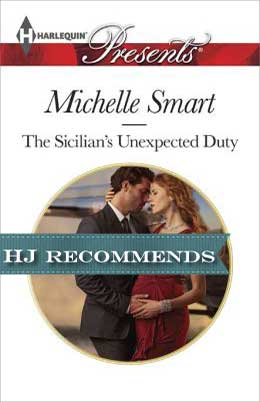 about the consequences that night had.
Cara is not going to let Pepe walk away scot free especially after what he did to her. She wants him to take responsibility for his actions but Pepe is not willing to take  her at her word. He demands that she spend remaining five months of her pregnancy with him to convince him that she is not lying. Cara doesn't have any choice but to agree to live with him for five months for the sake of her baby but she is hell bent on resisting Pepe's charm this time around.
The Sicilian's Unexpected Duty by Michelle Smart is the second book in Irresistible Sicilians by Michelle Smart. The first book was edgy and different, so I had high expectations about this one too and fortunately it did not disappoint. Michelle Smart has managed to write yet another compelling story and has even managed to portray the usual trope of one night pregnancy in a different light.
Pepe is a cynical alpha hero with a playboy persona which is hiding a deep guarded heart. Cara is a shy person who does not do well when meeting new people. She remains angry on Pepe for a major part of the story and rightfully so. There are loads of witty banter between the main characters for the major starting part and it takes them a while to stop being at each other's throat. The last few chapters are very emotional and just sealed the book's fate according to me (in a good way of course). The level of emotional quotient was phenomenal and you just wanna give the characters a big hug while reading (No,I am not kidding about this). The epilogue is the perfect ending to the story and it reminded me of the reason I love romance so much.
Overall, The Sicilian's Unexpected Duty by Michelle Smart is a book which you should definitely not miss. Michelle Smart has once again exceeded my expectations with her amazing writing and moving plot. Out with the next book already..!!
Book Info:

Published March 18th 2014 by Harlequin Presents Series #3232 | (Irresistible Sicilians #2)
One incredible night…
Cara Delany shouldn't have been surprised when Pepe Mastrangelo—world-renowned playboy—disappeared after their unforgettable night, leaving only cold sheets and X-rated memories…. Or so she thought! Four months later, with more than herself to think of, she's forced to face the sexy Sicilian again.
One very big consequence!
When the fiery redhead Pepe couldn't forget hurtles back into his life proclaiming he's the father of her child, it's a role that he never expected—or wanted. Unsure if she's telling the truth, Pepe has five months to uncover everything about Cara, and he knows just where to start!