The Sign for Home by Blair Fell: Take some deep breaths and batten down before launching into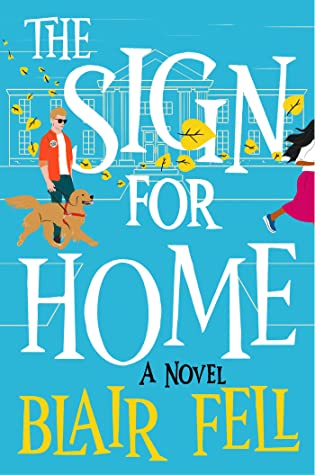 The Sign for Home head first. From an early age, Arlo was placed in the guardianship care of his uncle 'Brother Birch', devout Jehovah Witness who deemed it his role to protect Arlo from the sins of the world and in doing so, cut him off entirely from it.
Having been sent from his school wherein other students who were also Deaf or Blind or DeafBlind, a tragic event forces Arlo into Brother Birch's full time care wherein he is forced to purge his body of sin and maintain a humble life without distraction living with the fear of god in the strictest sense. And yet, as fate would have it, Arlo is permitted the tiniest of shoestrings, to attend the local community college to study writing and in doing so needs a second interpreter to support his long term interpreter Molly, who is likewise Jehovah witness and a God-fearing as Arlo's uncle. Before long, semi-alcoholic Cyril cracks open Arlo's world entirely and his professional interpreter relationship is challenged to the hilt in his bid to find a bravery he never believed he had.
Exploitation, social justice, and religious hypocrisy are tightly woven into this thoroughly gut wrenching basket, and when Arlo realises he has been lied to for a good portion of his life, the layers of deception he has lived with are stripped back to reveal a fighter whose self-determination is breathtaking in itself.
At no juncture was this a novel of comfort, raising hell in its plight for freedom, for people with a disability to have access to the same fundamental rights as able bodied folk and perhaps most importantly to have access to their voice and the right to follow their heart. And yet, despite the challenging themes, it was entirely about love; the type of beautiful all-consuming love that can only occur in the hearts and minds of those who are a thousand percent innocent in our world; their only crime being falling in love when the world has basically told them they mustn't or can't.
Throughout, there were many rough moments, wherein the horrendous and vile capacity that humans have to mistreat those who are vulnerable were delivered in harsh blows, and yet, on the flip, the lightness and clarity provided gorgeous glimmers of hope that people can be kind and humanity isn't doomed after all. Without doubt, this is a powerful read and will leave you feeling determined to be a better human and to love with all of your heart.
Book Info:

Publication: 5th April 2022 | Atria/Emily Bestseller Books |
Arlo Dilly is young, handsome and eager to meet the right girl. He also happens to be DeafBlind, a Jehovah's Witness, and under the strict guardianship of his controlling uncle. His chances of finding someone to love seem slim to none.
And yet, it happened once before: many years ago, at a boarding school for the Deaf, Arlo met the love of his life—a mysterious girl with onyx eyes and beautifully expressive hands which told him the most amazing stories. But tragedy struck, and their love was lost forever.
Or so Arlo thought.
After years trying to heal his broken heart, Arlo is assigned a college writing assignment which unlocks buried memories of his past. Soon he wonders if the hearing people he was supposed to trust have been lying to him all along, and if his lost love might be found again.
No longer willing to accept what others tell him, Arlo convinces a small band of misfit friends to set off on a journey to learn the truth. After all, who better to bring on this quest than his gay interpreter and wildly inappropriate Belgian best friend? Despite the many forces working against him, Arlo will stop at nothing to find the girl who got away and experience all of life's joyful possibilities.