The Sinful Scot by Maddison Michaels is the third book in the Saints and Scoundrels series. This has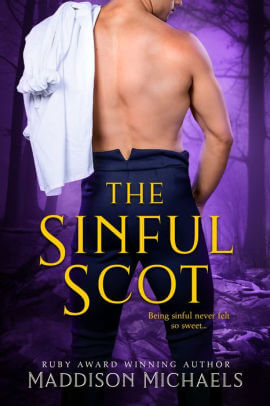 been an interesting series and each one is perfect as a stand-alone. We were introduced to Dr. McGuiness, Alec, in the first book when he had feelings for Sophie who was marrying the Duke of Huntington. I was so happy to read his story and have him find his happy ever after.
Constance "Connie" Campbell, the Duchess of Kilmaine, had married the duke to try and win her mother's approval. She thought her life would be perfect once she married a duke. Everyone thought Duncan, the duke, was charming but he was a monster with his fits of rage. Connie had no one and no where to go and knew if she ran again, he would probably kill her. One morning after having a ball, she awoke with the duke covered in blood and dead in her bed. She had no memory of what might have happened but knew she had to leave, or she would be accused of murdering him.
Alec had traveled to Scotland to check on his father's health. On the way back to England, Alec attended the Kilmaine ball at the request of their friend, Sophie, to check on Connie. As children the three of them were friends, but after Connie made her debut she had changed. She became obsessed with her appearance and marrying a duke. He didn't understand why he was attracted to her, when she wanted nothing to do with him. He became suspicious that things were not right after taking to Fergus, Connie's brother in law. Connie would not confide in him, so he decided to stay longer in town to make sure she was safe.
The next morning when he heard the news of the duke's death, he knew he had to help Connie. He suspected someone had drugged Connie and killed the duke to frame Connie. As they searched for clues to who had killed Duncan, their attractions to each other grew. Will they solve the mystery before they are caught by Fergus or the authorities?
The book was fast paced, intriguing, and full of twists and turns. They mystery of who killed Duncan became harder to solve as Alec and Connie dodged the authorities and more people are murdered. The author kept the reader in suspense until the end when the killer is finally revealed. It definitely was a surprise ending! The author also set up the next book for Iian, Alec's brother, and Lady Lorelie when they both decide to visit London. They should provide plenty of amusement for us with their love-hate relationship.
Book Info:

Publication: January 27,2020 | Entangled Publishing | Saints and Scoundrels #3
Constance Campbell, the Duchess of Kilmaine, once believed that all she needed in life was a duke. But everything unraveled when she realized her perfect husband was a perfect monster. Now broken beyond repair, she hides her misery behind a perfect Society mask…even from her childhood friend, Alec.
Dr. Alec McGuiness reluctantly finds himself back in Scotland, and checking up on the only woman to ever get under his skin, Connie. After she spurned him many years ago, he knows his humble life as a doctor could never be enough for her. But when the Duke of Kilmaine is murdered in cold blood, with Connie sleeping right next to him in bed, Alec knows he must protect Connie at all costs from those who would frame her for the duke's murder.
Now on the run, Connie feels a freedom she only ever dreamed about before, and an unexpected attraction to the man who is keeping her safe. But even if they can win her freedom and clear her name, could she ever open her heart up to someone again?